Tony award winner that Lea Salonga (Lien) will be leaving her As The World Turns this summer. The actress cites other obligations as the reason for her leave.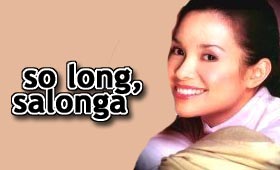 Salonga joined ATWT in march of this year. Her character quickly developed a relationship with Ben Harris, before falling ill.
Salonga explains that she did not choose to leave the show, but rather other work commitments forced her to make the decision to leave. Salonga will appear in Flower Drum Song at Los Angeles' Mark Taper Forum from October 2nd through December 2nd. While Salonga enjoys works on the small screen, she says that theatre very much remains her first love.
There's no word on how the writers will handle Salonga's departure. Salonga says that she'd like for her character to leave Oakdale on some soul-searching, perhaps to return down the road. Salonga has not ruled out an eventual return to the fictional town of Oakdale, but says that she would not harbor any ill will if the show decided to recast the role.
"I would love to see another young Asian woman take the role," Salonga said in a published interview.
Salonga's final airdate as Lien is Thursday, August 9th.
---
2018 DAYTIME EMMYS: SOAP CENTRAL'S COMPREHENSIVE COVERAGE