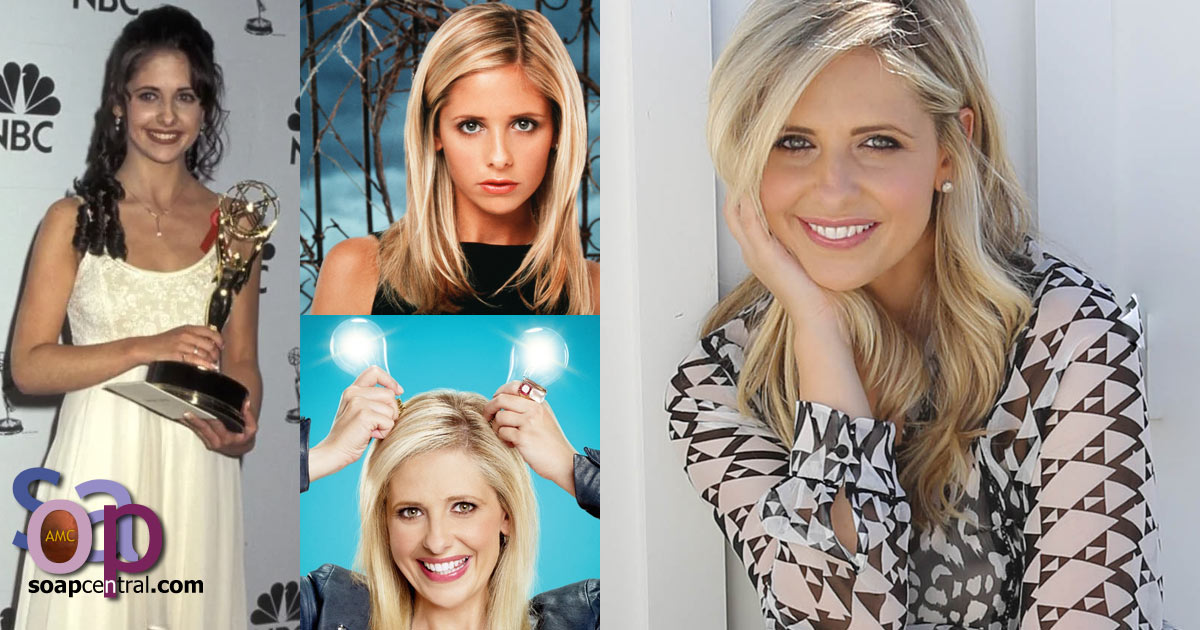 Sarah Michelle Gellar
Share this story
February 24, 1993 to July 3, 1995
Sarah Michele Gellar began her acting career at age four when she was discovered by an agent while eating in a local restaurant. Three weeks later she was on the set of her first film, An Invasion of Privacy. This chance discovery would later boost her to stardom on television and in film.

In February 1993, Gellar began work on the ABC soap opera All My Children. Though she remained with the show for only a little over two years, Gellar won a huge fan base - and a Daytime Emmy. Nominated for the Outstanding Younger Actress trophy in 1995, Gellar won the award the following year. Upon receiving the award, Gellar confirmed rumors that she intended to leave the show.

Gellar moved to California and began auditioning for various primetime projects. She auditioned for the supporting role of Cordelia on the series Buffy the Vampire Slayer, but Gellar ended up landing the title role in the series. It catapulted her to instant stardom.

Gellar's film career started with a series of uncredited performances. As her star rose, so did her name on the theater marquees. Her first breakthrough film was the teen flick Cruel Intentions. Roles in horror films came next, including I Know What You Did Last Summer, Scream 2, and The Grudge.

In 2002, Gellar married actor Freddie Prinz, Jr., her co-star in the Scooby Doo films.
The Crazy Ones
Sydney Roberts
September 26, 2013 to Present
Ringer
Bridget Cafferty and Siobhan Martin
2013
Robot Chicken
2005 to 2009
The Simpsons
Gina
2004
Beverly Hills Family Robinson
Jane Robinson
1998
Buffy the Vampire Slayer
Buffy Summers
1997 to Present
All My Children
Kendall Hart
February 24, 1993 to July 3, 1995
Swans Crossing
Sydney Orion Rutledge
1992
A Woman Named Jackie
Teenage Jacqueline Bouvier
1991
An Invasion of Privacy
Jennifer Bianchi
1983 The Simpsons
Episode:
The Wandering Juvie
Voice of Gina Vendetti
2004
Grosse Point
Episode: Passion Fish
Herself
2001
Sex and the City
Episode: Escape From New York
Debbie
2000
Angel
Episode: Sanctuary
(2000) I Will Remember You (Voice) (1999)
City Of (1999)
Buffy Summers
Manchester Prep
Episode: Cruel Intentions
Kathryn Merteuil
1999
Disney's Hercules
Episode: Hercules and the Falling Stars
voice of Andromeda
1998
King of the Hill
Episode: They Call It Bobby Love
Marie
1998
The Wonderful World of Disney
Episode: Beverly Hills Family Robinson
1997
Spenser: For Hire
Episode: Company Man
Emily
March 12, 1988
Veronika Decides to Die
Veronika Deklava
2009
Possession
Jess
2009
Suburban Girl
Brett Eisenberg
2007
TMNT
April O'Neil (voice)
2007
The Air I Breathe
Sorrow
2007
Happily N'Ever After
Ella (voice)
2006
The Return
Joanna Mills
2006
The Grudge 2
Karen
2006
The Grudge
Karen Davis
2004
Scooby Doo 2: Monsters Unleashed
Daphne Blake
2004
Scooby-Doo
Daphne Blake
2002
Harvard Man
Cindy Bandolini
2001
Cruel Intentions
Kathryn Merteuil
1999
Simply Irresistible
Amanda Shelton
1999
She's All That
Girl in Cafeteria
1999
Small Soldiers
Gwendy Doll (voice)
1998
Scream 2
Casey 'Cici' Cooper
1997
I Know What You Did Last Summer
Helen Shivers
1997
High Stakes
Karen Rose
1989
Funny Farm
Elizabeth's Student
1988
Over the Brooklyn Bridge
Phil's Daughter
1984 The Widow Claire
at the Circle in the Square
Neil Simon's Jake's Women
Molly
Daytime Emmys Winner, Outstanding Younger Leading Actress in a Drama Series (1995)
Daytime Emmys Nomination, Outstanding Younger Actress in a Drama Series (1994, 1995) PLACE OF BIRTH: New York, New York
DATE OF BIRTH: April 14, 1977
Height: 5'3"
HAIR: Blonde
EYES: Brown
MARITAL STATUS: Married, Freddie Prinze Jr. [Sep 1, 2002]
News Archive
: Source: Kendall returning, Gellar isn't. [Dec 3, 2001]
News Archive
: Newcomer Alicia Minshew tapped as AMC's new Kendall. [Dec 10, 2001]
News Archive
: Gellar, Freddie Prinz, Jr., marry in secret ceremony. [Sep 2, 2002]
News Archive
: Sarah Michelle Gellar confirms her AMC return. [Aug 4, 2011]
News Archive
: Sarah Michelle Gellar back on TV [Mar 4, 2015]
News Archive
: Sarah Michelle Gellar's latest TV role is brim with some very Cruel Intentions [Feb 25, 2016]
News Archive
: Sarah Michelle Gellar: How AMC helped her start a food business [Sep 9, 2016]