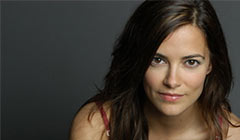 Rebecca Jo Budig
Born in Cincinnati and raised in Fort Mitchell, Kentucky, Budig is one of eight children -- she has five sisters and two brothers.
Rebecca graduated from the Cincinnati School of the Performing Arts and went on to major in zoology at Ohio's Miami University. She moved to Los Angeles in 1993 to pursue her acting career. While in Los Angeles, she began studying with acting coaches Howard Fine and Jay Goldenberg at the Howard Fine Acting Studio and at the Young Actors Space, respectively.
During Ms. Budig's initial tenure on the show, she made many guest appearances and served as a occasional co-host for ABC's
The View
. She was appeared on the covers of
Family Circle
and
Fit Magazine
, was featured in
Country Living
,
People
,
Us Weekly
and
In Touch
, as well as high profile fashion features in
New York Moves
and the prestigious
New York Magazine
.
The multi-talented Budig has served as host for WE's
Full Frontal Fashion
and post show round ups of
The Bachelor
on ABC Family. Additional television and film credits include
Hope & Faith
, Guiding Light,
Batman Forever
,
The Perfect Child
,
Out of Practice
,
CSI
and the television pilot,
The Beast
. CSI: Crime Scene Investigation
Joanna "Candy" Krumsky
2007
The Perfect Child
Sarah Daniels
2007
The Beast
PJ
2007
Out of Practice
Dr. Carla Munson
006
Full Frontal Fashion
Host
2004 to Present
WWF Sunday Night Heat
Host
2000
All My Children
Greenlee Smythe
August 11, 1999
to
November 30, 2005
;
January 16, 2008
to
February 17, 2009
;
March 19, 2009
;
December 23, 2009
to
September 23, 2011
Bonehead Detectives
Allie
1997
Sports Illustrated for Kids
Host
1997
Guiding Light
Michelle Bauer
1995 to 1998
Pride & Loyalty
Kelly Francine
2002
God's Lonely Man
Babsy
1996
Captain Nuke and the Bomber Boys
Patty Conrad
1995
Star Hunter
Carrie
1995
Batman Forever
1995 Daytime Emmys Nomination, Outstanding Supporting Actress (2001, 2003)
Daytime Emmys Pre-Nomination, Outstanding Lead Actress (2011)
Daytime Emmys Pre-Nomination, Outstanding Supporting Actress (2003, 2004, 2005, 2006)
Skating With the Stars Winner (2010)
soap
central
.com
Dankies Winner, Outstanding Supporting Actress (2009; for All My Children) PLACE OF BIRTH: Fort Mitchell, Kentucky
DATE OF BIRTH: June 26, 1973
MARITAL STATUS: Divorced, Bob Guiney [Jul 3, 2004 to 2010]
MARITAL STATUS: Divorced, Daniel Geller [Jun 1, 2000 to Oct 2000] Ran in the New York Marathon, with a time of 3:43:56
News Archive
: Budig nominated for Supporting Actress Emmy. [May 18, 2001]
News Archive
: Whispers of a Budig exit grow louder. [May 30, 2005]
News Archive
: Budig to exit AMC by year's end. [Oct 31, 2005]
News Archive
: AMC moving forward with Greenlee recast. [Mar 18, 2007]
News Archive
: Budig to return to role of Greenlee. [Dec 10, 2007]
News Archive
: Rebecca Budig confirms she will again leave AMC. [Oct 29, 2008]
News Archive
: ABC confirms the return of Rebecca Budig. [Oct 6, 2009]
News Archive
: Rebecca Budig wins
Skating With the Stars
. [Dec 22, 2010]
News Archive
: Budig named co-host of
Better Life
. [Sep 8, 2013]
News Archive
: Rebecca Budig, husband expecting first child. [Apr 30, 2014]