AMC Recaps: The week of September 18, 2000 on All My Children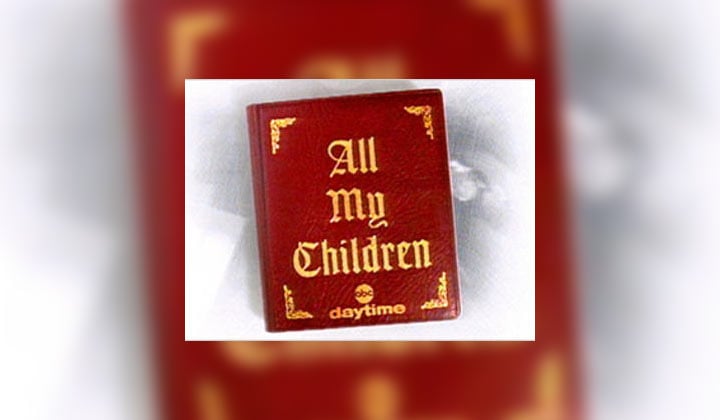 Monday, SEPTEMBER 18, 2000
Bianca went running into the ladies room hyperventilating. She was trying to convince herself that everything is OK and people only want to wish her the best. While she was in there, another woman came in and asked her if she was OK. The woman introduced herself as Allison Jones and told Bianca that her parents are friends with Erica. Bianca told her that it really felt weird because this was her party and she had never met Allison. Allison offered to sit with Bianca and told her to find a corner to hide in and she would be right out. Allison was taping the conversation and stated that if the rest of the night would be this easy, she would have a major scoop.

Erica was in the dining room talking to Jack and telling him that it had been a long time since he had her on his arm and wanted to know how it felt. Jack told Erica that it was an honor. He was really surprised that she was able to get ready in record time and also be on time for the party. Erica reminded him that this party was for Bianca and she was not going to be late. She wanted to make sure that everything would be perfect. She said that her biggest accomplishment was landing "O-Town" for the party and the band manager had something special for Bianca. Erica said that Bianca would be thrilled but Jack reminded her that Bianca had not said anything good about coming to this party. Erica told Jack that Bianca will have the time of her life and that was all she wanted. Bianca came into the room and when Erica called her name, she was a little jumpy. Bianca said that she was nervous. Jack told her that "her Uncle Jack" was here for her and for her to take his arm and he will handle the crowd. Erica started fussing over Bianca's hair and wanted to make sure that every hair on her head was in place. Allison was watching from the other side of the room.
Bianca told her mom that she wants people to like her for what she is. Her Uncle Jack told her that she looked beautiful. Bianca said that she wished her Dad would finally show up. She wanted one friendly face to see. Erica told her that there would be tons of guests at the party who know her and love her. Just then, Hayley, Becca, Mateo and Junior showed up. Hayley commented about the large crowd. Junior asked Bianca if she was going to school in Pine Valley and she told him that she would be starting late in Seattle. Myrtle came in and told Bianca that she was looking beautiful. The music started to play in the other room. Jack, Erica and Bianca started to go into the room but Bianca hesitated. Jack told her to imagine that all the people in that room were in their underwear and not to be scared when the conversation started to flow. They all walked in together.

Leo was with Greenlee and she was afraid that Wade would show up any minute. Just then, as Jack, Erica and Bianca walked through the door, their entrance was announced. Bianca was introduced as the "guest of honor" escorted by her mother, Erica Kane and her Uncle Jack Montgomery. The press was there and they started taking pictures. Bianca pulled away and asked her mother why the press was there. She had promised her that the press would not be there. Erica said that she did not invite them and doesn't know how it leaked out. Jack told the press that they have only 60 seconds and then they had to leave. The press asked Erica for one picture with her and her daughter. As the press was snapping pictures, Erica turned around and saw Alex come into the room escorted by Dimitri on one arm and Edmund on the other. The press moved away from Erica and Bianca and started interviewing Dimitri and Alex. Erica commented that they should know better than to use Bianca's party for a press conference.
The press started questioning Dimitri about his death and how they heard that he had a terminal illness. Dimitri told them that he owed his recovery to his wife. The press asked Alex how she felt about having Dimitri back and she told them that it felt like he never left. Edmund walked away and was approached by Erica. She asked him if he was going to do anything about the comments because that was his fiancee over there. Edmund told Erica that Alex was Dimitri's wife and not his fiancee. He also told Erica that as a courtesy, he was going to explain it once. What she was seeing was the natural ordering being restored and his private life would remain private. Edmund then walked away.
Allison came up to Bianca and asked her how it was going. Bianca told her that she was still trying to get over the press attack. Bianca told Allison that she didn't want this party in the first place but her mother insisted and now everything that she was afraid would happen was coming true. Allison made a comment about Dimitri and Bianca told her that her mother hates to be upstaged. Bianca had a puzzled look on her face. Allison was taping the conversation without Bianca knowing. Allison then walked away to get a couple of drinks for them. Hayley, Mateo and Junior were talking to Bianca and said that they had a plan to get rid of the press. Just then, Jack showed up and asked Bianca to dance with him. He told her that he was the safest person to dance with because he didn't know what her mother had planned for her. Leo and Greenlee were talking and she commented that she was glad her grandfather was not there because Wade would be all over him. Just then, Greenlee turned around and saw her grandfather and grandmother walk in.
Greenlee talked to her grandfather and tried to get him to leave but he said that he was going to have fun even if it killed him. He came back early from his trip to escort his wife to the party. They know all the people there and he was going to enjoy it. Greenlee reminded him about his heart condition.
Leo and Greenlee tried to mix in the crowd. As they passed Alex and Dimitri, Leo told him that he looked good. Alex told Dimitri that he was David's brother. Alex thanked Dimitri for giving her a happy ending. Erica walked up to Edmund and wanted to know if he was trying to turn them into stone since he was starring at them. She told Edmund that inside he was probably burning up. Edmund told Erica that he had been through worse. He told her that he and Alex tried but it didn't work. Erica told Edmund that Alex dragged Dimitri to the party to upstage Bianca and to rub his nose into it. Edmund said that Dimitri was not dragged there. Erica commented that she was really disappointed in Edmund because at one time he would not let any man upstage him. Edmund reminded Erica that Dimitri was not "any man." As Edmund walked away, Erica reminisced back to the time when she and Dimitri danced in the castle in Budapest. She then asked Robert, the matri d, to have the orchestra play a special song. Dimitri and Alex were talking and then he stopped when he heard the music playing. He said that the music was a sound from long ago. Erica walked up to Dimitri and he asked her if she requested the song. She said "yes" and he said that it was a wonderful gesture. Dimitri and Alex then excused themselves and left. Edmund walked out with them and Erica commented to Edmund that "he was being led by the nose." Edmund was upset with her comment and told Erica "thank you for your support" and then he walked out.
Erica found Bianca hiding in a corner and pulled her out and told her to stop hiding. She wanted to introduce her to some more people. Bianca said OK if she had to. Erica told her that the whole party was for her and a little cooperation would make it easier on her.
Greenlee went to talk with her grandfather trying to encourage him to leave. While she was gone, Becca came up to Leo and started a conversation. She told Leo that he and Greenlee were more than "buddies." She asked Leo if he was afraid that their friendship would turn into something real and then walked away. Leo went to Greenlee and asked her to go into the lobby with him because he wanted to tell her something.
Bianca and Adam Junior were taking a break when Allison came up to her. She wanted to know if her mother was getting on her nerves. Bianca told her that her mother likes the spotlight and she doesn't. Allison then told her that she was surprised that Erica was throwing this party so soon after Bianca's rehab. Allison asked her how she could be there and pretend nothing was wrong. Bianca told Allison that nothing was wrong. Allison said that this was not the story she heard from her roommate in the rehab center. Bianca asked her how she knew her roommate. Bianca got suspicious and then asked Allison who her parents were because when they first met, she told her that her parents were friends of Erica. Allison said that her parents did not come tonight. Bianca then told Allison that she was lying and asked Hayley and Mateo to help her out. Allison told them that her parents were not friends of Erica's. She was a reporter from "The Exposer." Mateo then escorted Allison out.
Erica then introduced the band "O Town" and invited Bianca to come to the front. Erica told her that the band was going to sing a song especially for her. When the song was over, Erica had another surprise for Bianca.
Ashley Angel from the band, O Town, asked Bianca to dance. She was so embarrassed that she ran out of the room.

Greenlee and Leo went to the lobby to talk. Leo was trying to tell Greenlee how much he cared about her when they were interrupted by Derek. Derek was there about a police matter and wanted Greenlee to go to the station quietly with him. He wanted to question her about embezzlement, fraud, and money laundering. She turned to Leo with a scared look in her eyes.

Gillian and Ryan were talking in the hallway of the hospital about Jake. Gillian told Ryan that Jake apologized about the way he left Pine Valley. Gillian also told Ryan that she could not tell Jake about them. Ryan told Gillian that he risked his life to get Jake and her out of Chechnya because Gillian told him that she wanted to tell Jake in person about the divorce she wanted from him. Gillian said that Jake was in pain and she could not ask him now because it would cause more pain. Ryan asked her if she was falling in love with Jake. Gillian just looked at Ryan without answering. Gillian told Ryan that she cares about Jake and that would never compare to how she felt about him.
Joe was in the hospital room with Jake. Jake was telling his father that he wouldn't be in the hospital if he would have been a little bit faster. Joe told Jake that if he was a little bit slower Ryan and Gillian wouldn't be there. Joe told Jake that he would never get tired of telling him how proud he was of him. Jake asked his dad if Ryan was still at the hospital and he told him "yes." Jake then asked him "why?" Jake told Joe that he understood why Gillian wanted to find him but could not understand why Ryan was there. He wanted to know why Ryan would risk his life and go into a war zone halfway around the world to rescue his ex-wife's husband. Joe told Jake that Ryan was trying to refurbish his image back home and helping Gillian was probably part of it. Joe said that the only motivation was his wife's and he knows how much Gillian loves him. Jake said that was what he wanted to believe.
Gillian told Ryan that she wished she could be in his arms now. Ryan asked Gillian how long he would have to wait. Gillian told him that she didn't want anything to interfere with Jake's recover. Ryan said that he felt the same way but his recovery would take a long time. Gillian told Ryan that he saved all their lives and she loved him with all her heart and that he would have to be patient. Ryan then reminded her that Jake left her and wanted to know why she owed him anything. Gillian said that he needs time to heal. Joe then walked in and interrupted their conversation. They told Joe they were discussing travel plans back to Pine Valley. Gillian asked Joe when Jake would be discharged. Joe told them that once he is stable, he would be able to fly home. Jake was anxious to get back to Pine Valley also. Joe told Gillian that Jake had been asking to see her. She left to go see Jake and then Ryan tried to excuse himself to go get a cup of coffee but Joe stopped him and wanted to talk to him.
Joe told Ryan that he heard them talking about flights back home and he knew that Ryan had a business to run. Joe told Ryan that he knew he was anxious to get back home but Gillian would be staying with Jake until he was stable and able to travel. Joe also told him that a man and a woman need this time to heal from this ordeal and they need to do this with no outside interference. Ryan said that he understood what Joe was telling him. Gillian was in the hospital room with Jake when his test results came back. The nurse told him that the doctor would be back in a few minutes to go over the results with him. Jake could not wait and had Gillian give him the results. He was reading the results and Gillian could sense that something was wrong from the look in his eyes. Dr. Joe came into the room and Jake handed him the test results. Gillian left the room so they could discuss them in private. Whatever the results showed, Joe told Jake that there are no certainties and told him that it could get better in time and Jake commented that it could also get worse.
Gillian went outside the room to where Ryan was and he told her that her father-in-law just gave him his walking papers. Ryan told Gillian that Joe made it clear that he was not needed at the hospital. Gillian said that Jake's father would probably say something like that. Ryan said that Joe was right and it was time for him to go, he had no choice.


Tuesday, September 19, 2000
Derek found Greenlee at Bianca's party and insisted that she go down to the station and answer some questions. Afraid of causing a scene her grandparents would notice, she reluctantly agreed to accompany Derek --- but not until after Leo lunged and knocked Derek to the ground in an attempt to create an opening for Greenlee to escape!

Down at the police station, Derek explained that Wade Randall had cut a deal, and had given up Greenlee's name to the police as part of a money laundering operation. Derek threatened to arrest her for embezzlement, fraud and money laundering and left her alone to consider her dilemma. She paced the interrogation room and discovered a newspaper headlined, "Local heroes on mission of mercy in Chechnya." Furious, Greenlee screamed "I did all this so Ryan could go to Chechnya with Gillian? That bastard."

Erica tried to smooth things over with her guests after Bianca ran from the party. "Nice going," Jack told Erica once they were alone. Erica moaned "That was completely humiliating," "For you or for Bianca?" Jack responded. He and Myrtle tried to explain that the whole party idea had been a mistake, but Erica refused to believe it. She went in search of Bianca and found her hiding in the ladies' room. The two argued over Bianca's behavior. Erica finally persuaded Bianca to return to the party. Junior worked up the courage and asked Bianca to dance.

Ryan told Gillian that he had to leave the hospital so that Gillian could resolve the situation with Jake. Gillian was petrified of telling Jake the truth about her and Ryan because of Jake's precarious medical condition. Jake attempted to allay her fears about his injuries. He also asked Ryan to leave the hospital so that he and Gillian could work on their marriage. Ryan agreed. He kissed Gillian on the cheek and left. Gillian entered Jake's room. He said, "Now that I have you by my side, I can get through anything."

After seeing the newspaper headlines, Greenlee was ready to talk. "The man you want is Ryan Lavery," she told Derek. "He stole $3 million from incredible dreams.com.

Worried about her father's absence from the party, Bianca asked Junior for a raincheck on the dance. She looked over to see Erica and Jack huddled together talking.

"Jack, what is it?" Erica asked a stunned Jack.

"It's Travis," Jack said. "He's dead."


Wednesday, September 20, 2000
Greenlee willingly talked with Detective Frye about her involvement with Wade Randall. She told the detective that Ryan Lavery had stolen $3,000,000 from Incredible Dreams. "I'm a law abiding citizen," she said with wide-eyed innocence. She named Ryan as the connection to Wade.


Adam Junior sulked in the lobby outside the party at the Valley Inn. Dr. David Hayward ran into him and sensed that something was wrong. He instinctively picked up on the fact that Junior's problems were female related. David persuaded Junior to tell him what was bothering him. Junior confided that he had asked Bianca to dance, only to have her blow him off. He asked David if he had any advice about women. David humbly confided that when it came to the opposite sex, he was clueless. "I have a t-shirt that says 'I survived Erica Kane,'" he told Junior. He assured Junior that girls just liked older men and that it was nothing personal. Junior seemed to feel better. Unaware to either David or Junior, Vanessa had been eavesdropping on the entire conversation.


Leo told Bianca that he was worried about Greenlee and asked if it would be okay for him to leave the party to go to the police station. Bianca was distracted as she watched Erica, her Uncle Jack, and Myrtle having a serious conversation. She told Leo to go ahead because Greenlee needed him more than she did. Leo joking weighed the importance of saving Bianca from a dud party, or Greenlee from lethal injection. He bid Bianca goodnight and left. Bianca asked her mother and uncle what was going on. Erica tried to get Bianca to go home so they could talk privately. Bianca knew something was terribly wrong and demanded to know right away. Erica slowly and gently told Bianca that the reason her father was not at her party was because he had suffered a stroke. Bianca turned to Jack and asked that he take her to see her father. Pain washed over Jack's face as he told Bianca that Travis had not made it. Bianca was in disbelief saying that she had just left a message for her! father on his voicemail --- he had to be alive. She also couldn't understand how her father, a young, healthy, athletic man, could have had a stroke because "only old people" have strokes. Hayley whispered to Mateo and Myrtle that the last thing Bianca needed was to have all the party guests witness her tragedy. Hayley, Mateo and Myrtle made their way through the crow,d discretely informing everyone that the party was over. Erica apologized to Bianca for her earlier derogative comment about Travis missing his daughter's party. Bianca continued to look shocked. Erica tried again to get Bianca to let her take her home. Bianca ran crying from the room and Erica cried as Myrtle comforted her.


Dixie walked up on David and Junior talking and Junior asked if she had been spying on him. She joked that she had, in fact, been spying and that the potted plant in the corner was really Tad. She said her real reason for the visit was to bring lab reports to David. Junior went back to the party. Vanessa was eavesdropping nearby as Dixie warmly thanked David for once again connecting with her son and offering him support. She praised David for knowing she what to say to make Junior feel better. Dixie touched David's arm and smiled warmly at him before excusing herself to make sure that Junior had a ride home. Vanessa immediately swooped down on David and teased him about having a crush on Dixie. David tried to dismiss her, but Vanessa went to tell David that he seemed to like to court disaster. She reminded that he had first taken on "Hurricane Erica," and now had his sights set on a married woman. "Dixie thinks you're quite a man, but are you man enough to break up P! ine Valley's Uber couple?" Vanessa smirked "Of course you are, I raised you," she sneered. David just ignored her and walked away. Palmer arrived home from his cruise and Vanessa turned her charm on. She hugged him and gushed about how she had missed him terribly. Palmer was his usual smug, lukewarm self, offering Vanessa little affection.


Back at the police station, Greenlee continued to implement Ryan in the whole Wade Randall scheme. She told Derek that she was only guilty of falling for the wrong guy. She accused Ryan of using her to get his dotcom business started. She said that Ryan persuaded her to borrow money from Wade and that she risked her life in doing so... all out of greed. Greenlee said that when Ryan needed more money, he just used the investors so that he could impress Gillian. Derek warned her that if she was lying she'd be in big trouble, but Greenlee stuck to her story. Leo barged into the room and tried desperately to retract whatever Greenlee had said. He gave every excuse in the book for her --- from being under duress to being insane. Greenlee calmly told him that everything was fine because she had done nothing but tell the truth. Leo was confused and worried. Greenlee led him out saying that she would explain everything to him later. Detective Frye grumpily told Greenlee tha! t she was lucky to have a friend like Leo and kicked them both out of the office. After they were both gone, Derek moved to secure a bench warrant to investigate Incredible Dream's financial records. Later, Derek issued an order to one of the officers saying that he wanted Ryan arrested the minute he returned to Pine Valley.

"I thought about you as we passed the Cyclades, the siren singing her seductive song, luring men to their doom," Palmer muttered only half in jest to his wife. Vanessa tried her best to get Palmer back to their room, but Palmer wasn't all that interested in going anyplace alone with her. Still relaxed and peaceful from his vacation, Palmer didn't immediately realize that Vanessa was sporting a new frock, new shoes and a well-coiffed hairdo. When he did, however, he demanded to know where Vanessa had gotten the money to return to her lavish lifestyle. "And don't tell me that you found them at a yard sale," Palmer snapped. Asked whose money she'd been living off of, Vanessa promptly replied, "Adam Chandler's." Vanessa offered Palmer a condensed version of how she had Arlene between "a rock and a hard place." Palmer shook his head in disbelief. Vanessa took a deep breath and told Palmer that he could kick her out if he wanted to --- she no longer cared. "I'm going to be out there! flying my broomstick sky-high and you, Palmer Cortlandt, can just go to hell," she growled. Surprisingly, Palmer applauded his wife's deviousness. He said that she had found a wonderful way to pickpocket his enemy and that she had given him a new enjoyment of "the game." Palmer continued on, saying, "I've never known a woman quite like you. You may eventually be the death of me, but I won't die being bored." He again surprised Vanessa by asking her to retire to their suite and discuss their future together.

Once Leo learned what Greenlee had done, he was amazed that she'd gone ratted Ryan out to the police. "He's an embezzler. Why shouldn't he suffer the consequences?" Greenlee asked. Greenlee brushed off Leo's questions about how she could turn in the "love of her life." She explained that she was over Ryan and that he was no longer a part of her life. Leo offered to whisk Greenlee away to the Himalayas to keep her out of harm's way. Greenlee was moved by Leo's gesture and said that he's been a great friend to her. Leo, however, wanted to know if being a friend was all he was to Greenlee.

Back at Erica's home, Bianca locked herself in her room, sobbing uncontrollably. Erica expressed remorse to Jack over the last, not-so-happy conversation she'd had with Travis. Erica got sidetracked and started bad-mouthing Barbara. She took a deep breath and told herself that she would not let Barbara upset her. Travis' death, said Erica, "ruins everything." Jack angrily snapped that it was inconsiderate of Travis to ruin Erica's party. Erica sighed and explained that that was not what she meant. Jack bowed his head slightly and questioned how he would break the news to Christine (Kit), who was traveling in Europe. As the former lovers consoled each other, Bianca suddenly appeared on the landing. She lashed out at them for not really being upset or concerned by her father's death. "Your tears are as phony as you are!" she snarled. Jack tried to calm Bianca, saying that she was just upset. Bianca shook her head defiantly from side to side and told Jack that he doesn't understa! nd her --- and never has. Still lashing out, Bianca accused Erica of being the reason she'd "stopped eating in the first place." She added, "I have so much of everybody else's crud down inside, there was no room for anything else!" Erica urged Bianca to continue speaking to get her feelings out. Alone in her room, Bianca tearfully asked why her mother had had an affair with Jack. "We could have been a family. We could have been so happy."



At the boathouse, Leo and Greenlee kissed passionately. "This feels so right," Leo purred. Suddenly, Greenlee pulled away in fright. She questioned what she and Leo were doing. Anything that seems right, she gasped, has to be wrong. Leo shook his head and urged Greenlee not to ruin a beautiful moment. They kissed again before Leo decided that they should take a boat out onto the lake and make love under the stars. Greenlee was a bit fearful that the boat might spring a leak. Leo assured her that nothing like that would happen; nothing could ruin their night. Suddenly, Leo lost his footing and tumbled into the water. Greenlee screamed, but Leo quickly crawled back onto the wooden floor after only ten seconds in the frigid water. He stepped towards Greenlee and asked her for a hug, but Greenlee refused. Between laughs, she told Leo that there was no way she was going to get near him because he was "stinky." Leo rolled his eyes and reached his arms out to embrace Greenlee. She pulled quickly away and again teased Leo that he smelled like seaweed.

Fresh from the airport, Ryan and Adrian headed back to the loft. In the hallway, Ryan told Adrian that he did not want to discuss anything about Gillian or Jake. Ryan opened the door to the condominium and flipped on the light. Immediately, he saw the destruction Greenlee had unleashed several days earlier. Ryan gasped and walked around the loft to assess the damage; everywhere he turned he found shattered computer equipment. While Ryan was on the phone talking to some of his business associates to find out what had happened, Adrian assessed the damage. He determined that the damage had not been caused in a robbery --- this was "payback." Ryan had only been off the phone for a few minutes when Derek and two police officers strolled into the loft. Ryan turned and told Derek that he was glad to see him. Ryan assumed that a neighbor must have beaten him to the punch by calling the police. Derek shook his head and broke the news to Ryan that he wasn't there to investigate the damage. He was, however, there to arrest him on "theft by unlawful disposition" charges. Ryan's jaw dropped. He demanded to know what was going on and how the police had gotten the idea that he was somehow involved in money laundering. Ryan was read his rights and granted a phone call. Ryan phoned Jack, but Jack told him that he was involved in a "family crisis" and would not be able to meet with him until the morning. Ryan exploded, demanding to know what sort of bogus charges he'd been brought up on. Derek told Ryan that had had gotten a bench warrant and investigated Incredible Dreams' financial records. Without going into too much detail, Derek explained that he'd discovered $3,000,000 missing from the company funds and learned that it had since been repaid with mob-funded money. Ryan was stunned. He tried to bolt out of the loft, but one of the officers blocked his way. Adrian pleaded with Ryan to keep his mouth close and to go along with Derek's wishes until he had a chance to meet with Jack.

At Erica's house, Erica left the room to phone Barbara. She did so in order to give Jack and Bianca some time to talk. Bianca buried her head in her uncle's chest and tearfully asked what was going to happen to her. "You don't have to be afraid," Jack said reassuringly. Bianca feared that she'd have no place to call home now that her father was dead. Jack reminded Bianca that she would always have a home with her mother. Bianca sniffled loudly and explained that she and her mother had not exactly been seeing eye-to-eye lately. Outside, Leo and Greenlee stood on the porch planning the rest of their evening. Leo said that he'd slip inside and get washed up. He told Greenlee that she was free to wait inside for him. As they entered, Bianca turned and looked towards them. She immediately jumped from her seat and raced into Leo's arms. "My daddy's dead, Leo," she sobbed. Leo was stunned by the news of Travis' death. He and Bianca stepped outside to talk in private. Greenlee offered her condolences to Erica and Jack. She did, however, find some delight in learning that Ryan had been arrested. Outside, Bianca told Leo that she didn't know what to do now that her dad was gone. Greenlee exited the house and paused briefly to tell Leo that she would see him later. She then kindly told Bianca that, although they are not close, she'll be there if she needs someone to talk to. After Greenlee left, Bianca told Leo that no one understands her like her dad did. "I was going to tell him everything," she sobbed softly. Leo asked Bianca what it was that she was going to tell her dad, but Bianca said nothing. Erica stepped outside and asked if she could speak to Bianca. Bianca looked down at the ground and shook her head from side to side. Dejected, Erica returned inside and sighed heavily.

Ryan had apparently been trying to reach Greenlee since his arrest. When she arrived at the police station, he was overjoyed to see her. "How the mighty have fallen," she said coldly. Ryan cocked his head to one side and begged Greenlee to do something to help him. Greenlee blinked several times and asked Ryan what she could possibly do to help him. Ryan asked Greenlee to find "the guy" who had set him up. Greenlee flashed a big grin and replied, "You're looking at her."

At the hospital, a defiant Marian blocked Arlene from entering Adam's hospital room, where Liza was seated next to a slumbering Adam. Arlene laughed at Marian and told her to get over her feelings of anger. Arlene tried to scoot past Marian, but again Marian blocked her way. Arlene puckered her lips and turned and walked away. Inside the hospital room, Adam awoke and smiled warmly upon seeing Liza. His thoughts immediately turned to reconciliation. In fact, Adam asked Liza if her being there was a sign that they could find their way back to one another. Liza told Adam that a reunion wasn't possible because she could not forget the horrible things he'd said to her. She reminded Adam that he'd once told her that he'd never loved her or Colby. She asked how she could possibly forget about that. Adam assured Liza that he's never stopped loving her and attributed his caustic remarks to a broken heart. Liza stopped short of saying that there was no chance of her getting back together with Adam. It would, however, take some time before she could even think about exploring the feelings she still had for her former husband. Liza gave Adam a kiss on the cheek and instructed him to get some sleep. In the hallway outside the room, Marian asked Liza why she was trying to deny her feelings for Adam. Liza was surprised that her mother, of all people, was urging her to get back together with Adam. Marian explained that she was trying to see the world through Stuart's eyes. Once that topic had been exhausted, Marian warned Liza that Arlene had been poking around. Liza crinkled her face and told her mother that she was not afraid of Arlene. Back inside, Adam looked up and noticed a doctor donned in surgical scrubs standing by the side of his bed. Adam told the doctor that he just wanted to get some sleep. The doctor removed his surgical mask --- only the doctor wasn't male --- or even a doctor. Arlene smiled devilishly at the still-groggy Adam. "I have something for the pain," she cooed sexily. Arlene then leaned down and planted a passionate kiss on Adam.