The weather is usually very unpredictable. Just ask the oodles of TV weatherpeople. In soapland it's usually a bit more predictable---except, perhaps, during Sweeps months. This week a major snowstorm hits Pine Valley. Actually, it hits Pine Valley, Llanview, and Port Charles. That's right. This is a snowstorm of epic proportions. It's the Storm of the Century.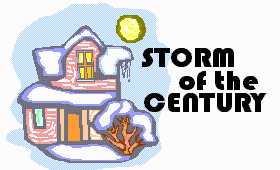 This storm isn't your typical Sweeps stunt. It's a spiffy tie-in with another Sweeps stunt---Storm of the Century, a new made-for-television movie based upon a soon-to-be released Stephen King novel. The plot on the soaps is much more mundane than that of the book. Picture it: Winter in Pine Valley. Everything is chugging along fine---and then
it
hits.
It's difficult to talk about the storm's effects without spoiling the surprise. I'll leave that for
The Scoop
section. So here's a brief overview. It's traumatic for any parent to have a child end up missing---but imagine that your child disappears in the middle of a blizzard. Mateo and Raquel will have to face this ordeal. Erica and David had a falling out as a result of David's indifference to Vanessa's near death experience. In his icy warning to La Kane to back off, David warned Erica that she'd better be nice to him because she'll never know when she'll be in need of help. As it turns out, she'll need David's help very soon.
So the blizzard turns out to be an extension of the usual Sweeps month tactics. Since the snowflakes haven't yet begun to fall (as of the time this was written), it's too soon to tell if the snowstorm storyline will be a thriller or a chiller. It's also too earlier to tell if the across the board snowstorm storyline on all the ABC soaps will prove a ratings winner.