On September 23, All My Children will air its final episode on ABC. Since the network announced the show's cancellation in April, major publications and television programs have all wanted to take part in honoring the show's legacy.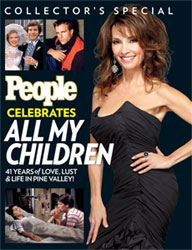 People magazine, the world's most popular celebrity weekly, has put together a very special 128-page commemorative book celebrating All My Children's 41 years on broadcast television. The book is appropriately titled People Celebrates All My Children with the soapy subtitle "41 years of love, lust, and life in Pine Valley."
The People tribute will come in two versions. A soft cover version will be sold at newsstands beginning September 9. A hardcover edition will be released on September 27, and will be available wherever books are sold.
Both editions of the book will include exclusive photos and interviews, insight from Susan Lucci (Erica Kane) and AMC creator Agnes Nixon, and a look at some of the many stories that have made All My Children a household name since its debut in 1970.
"I loved Erica Kane from the moment I read my first audition scene, and I will always love her," Susan Lucci told People. "She made me feel like I can fly."
Of course, the book will take a look at Erica's many, many relationships.
The book promises to be a true must-have for any All My Children fan. For more information about the book or for ordering information, please click here.
Photo: People/Time, Inc.