Emmy Award-winning costume designer and color expert, David Zyla, has released a new book that he hopes will help women find their style and color DNA. What exactly are these new types of DNA? According to Zyla, it's all about finding the colors that truly work to bring out your natural beauty and true self.
As a stylist and the head costume designer for All My Children, Zyla has spent his career helping celebrity women express their own personal style, including Cindy Crawford, Susan Lucci, Hillary Clinton, Christine Baranski, and Alfre Woodard, as well as scores of everyday women, who have discovered the True Colors that have given them their own superstar style among the people who know them. By surrounding themselves with the right colors and style, these women haven't just learned the secret to looking and feeling great, they have also learned how to find more happiness and success by mastering and embracing their own personal style.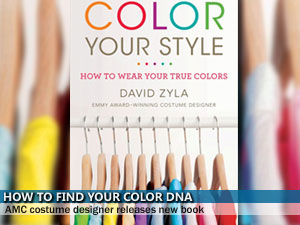 In Color Your Style, Zyla provides the ultimate fashion guide for readers to easily discover the colors and style that most beautifully express their best style -- all within a reader's budget. Zyla says that his philosophy is that "every woman deserves to feel empowered and look fantastic, but no one needs to spend a fortune to do so."
Zyla also believes that by embracing their "style DNA," each person will radiate confidence and positive energy that will improve all areas of their life -- including smarter use of money by no longer wasting money on items that aren't right.
Filled with anecdotes and personal stories that all women can relate to, Color Your Style presents simple steps to discover your True Colors, the five major hues that make up your personal palette, as well as your Base Colors, three neutrals that will form the foundation of your wardrobe. These colors are:


Essence (your version of white): The color that harmonizes your skin tones and reveals your most genuine self. Find it by identifying the lightest shade of the open palm of your hand. Wear it when you are having an intimate conversation, on your wedding day, or anytime want to be completely open and honest.


Romantic (your version of red): The color that reveals your passion, sexual energy, and romantic self. Find it by matching the color of your flushed skin. Wear it on a hot date, a romantic evening, or anytime you want to show your passion.


Dramatic (your version of blue, green or purple): The color that shows your power, charisma, and sense of authority. Find it by taking the shade of the veins in your wrist. Wear it on a job interview, for a formal presentation, or anytime you want to make a strong impression.


Energy (your version of blue, green or brown): The color that restores your energy. Find it by isolating the darkest part of your iris (not the ring around your iris). Wear it when you want to be calm, self-possessed, and centered, such as at a family reunion, a meeting with your child's teacher, or a corporate retreat.


Tranquil (your version of blue, green or brown): The color that helps you relax and release stress. Find it by pinpointing the lightest part of your iris. Wear it when you want to recover from a challenging situation, such as a long day at work, and when meditating or practicing yoga.


First Base (your version of black): Your most formal and powerful neutral. It is the color found in the ring of your iris.


Second Base (your version of brown): A warmer, less formal neutral. It is the color taken from the darkest shade of your hair.


Third Base (your version of khaki): A playful and informal neutral. It is the color seen in the lightest shade or your hair.

Color Your Style is available in bookstores now and online from your favorite retailers. To order online from Amazon.com at a significantly reduced price click here.