ABC Daytime and TV Land have joined forces to create a crossover event where characters from All My Children and Hot in Cleveland will interact to continue a storyline established on last season's Hot in Cleveland.
The story revolves around Wendie Malick's character, Victoria Chase, and her industry-nemesis, Susan Lucci. The two-part Hot in Cleveland episodes will air on TV Land on February 16 and 23 at 10:00 pm ET/PT. The All My Children episode will air on ABC at 1:00pm ET/12:00pm PT on February 24.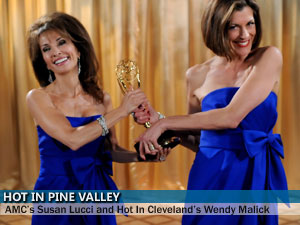 AMC Emmy winners Susan Lucci (Erica Kane), Michael E. Knight (Tad Martin), and Darnell Williams (Jesse Hubbard) will appear as themselves on Hot in Cleveland. Meanwhile, Golden Globe winner Wendie Malick, as her Hot in Celevland character Victoria Chase, will pop up in Pine Valley as Gertie, a housekeeper who ends up moonlighting as a bartender at Confusion after Erica Kane fires her.
"We are thrilled Victoria Chase will join the cast of All My Children -– there are very few actresses who could pull off a dual role performance as BOTH a maid and bartender. We hope she is up to the challenge," teased AMC executive producer Julie Carruthers.
"There is only room for one Erica Kane in Pine Valley, and Victoria Chase will unfortunately find that out the hard way," Brian Frons, president, Daytime, Disney/ABC Television Group added. "This is a unique opportunity to raise awareness of both shows with similar demos, and we expect each other's viewers to follow from one show to the next."
"We're so happy that Victoria Chase will finally get to show All My Children fans why she is a soap superstar," responds Larry W. Jones, president, TV Land. "We're so excited to partner with All My Children to bring to life this classic TV form when television worlds collide."
Hot in Cleveland also stars AMC fan Valerie Bertinelli, Jane Leeves, and the legendary Betty White, who appeared on The Bold and the Beautiful.