All My Children star Rebecca Budig (Greenlee Smythe) is one of six stars tapped for ABC's inaugural edition of Skating With the Stars. The reality series is a winter takeoff of the network's blockbuster series, Dancing With the Stars.
Budig says that she relishes the opportunity to be part of the celebrity skating competition.
"This is like a childhood dream for me, so I feel giddy," Budig revealed.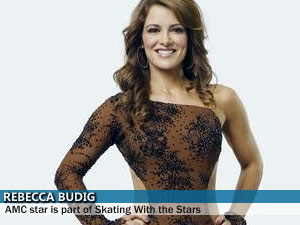 Budig isn't the only soap star to be part of Skating With the Stars. Also included in the first season's run is movie star Sean Young, who is currently appearing as the troublemaking Meggie on CBS's The Young and the Restless. Real Housewives of New York cast member and cook Bethenny Frankel, Mötley Crüe frontman Vince Neil, Disney Channel star Brandon Mychal Smith, and Olympic gold medal skiier Jonny Moseley round out the cast.
The celebrity ice skating concept is not new. In 2006, FOX aired Skating With Celebrities. It, too, featured a cast of six celebrities, with actress Kristy Swanson taking home the top prize.
All six couples in ABC's version will take to the ice with their professional partners for the first time in front of a live audience on Monday, November 22, with couples performing high-paced ice dancing moves and dazzling figure skating routines.
Like its ballroom counterpart, television viewers will be able to call in and vote for their favorite stars. Each week, one celebrity skater will be iced.



Listen to Adam Mayfield's appearance on Soap Central Live.