Last month, All My Childen announced that newcomer Christina Bennett Lind would be taking over the role of Bianca Montgomery. Though it was almost certain that the ABC soap would recast the role at some point, many fans seemed to think that any announcement was still a ways off. Now, Lind is talking about taking on the role of one of daytime's groundbreaking characters.
Interestingly, Lind auditioned previously for other roles on All My Children. They did not pan out, but she remained on the show's radar.
"I had auditioned for a few contract roles. And I got to know [casting director] Judy Blye Wilson," Lind told Advocate.com. "[When] this [role] came around, she thought it was right for me. So I looked at that as a compliment, because Bianca is a beloved character on the show."
Lind admits that she is well-aware that viewers associate her new role with Emmy-winning actress Eden Riegel. Riegel, who took on the role of Bianca in July 2000, made what would be her final appearance as Bianca on January 5, 2010.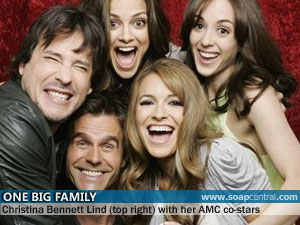 "I did look at some of Eden's footage online to prep for [the audition]," Lind explained. "She, for obvious reasons, was so beautiful, real, and honest in her portrayal of Bianca. Ultimately, what it came down to for me was not trying to mimic her. Part of me feels very strongly that Eden created a character that was so well-written, detailed, and complicated, and the element of being gay was part of who she was, but it did not define her. I sort of wanted to take that and breathe my own life into it and do something else by using myself rather than using someone else's interpretation."
Though the two actresses haven't spoken directly, Riegel did offer a tweet of encouragement to her successor.
"AMC gets a new Bianca and she's super pretty!" Riegel tweeted, adding with a wink, "And, of course, by that I mean she looks like me."
Riegel also told TVGuide Canada that she "will be cheering her on along with the rest of the AMC fans."
Lind had no hesitations about playing a lesbian, and questioned why the label was even an issue.
"I am really proud to play this part and have no trepidation about it at all, and being gay is part of who she is. I am proud to be doing it because of how current it all is," Lind stated in her interview with Advocate.com. "I am surprised that the gay community is still struggling and fighting so many years later. They are still fighting for basic human rights. I am excited to be a part of that fight."
Lind will become the seventh actress to play Erica Kane's youngest daughter when she makes her debut next week. Due to a preemption, Lind will now make her first appearance on June 15.
For the complete interview, please visit:
advocate.com/Arts_and_Entertainment/Television/Becoming_Bianca_All_My_Children/