Five-time Emmy winner David Canary (Adam Chandler) will exit All My Children this spring. Though the actor's decision to leave the ABC soap has been rumored for some time, the network has just now issued a press release confirming the actor's departure.
"My career on All My Children has given me more than words could ever convey, both professionally and personally," Canary said in a statement. "I have cherished each and every moment. I would like to thank all the fans who have tuned in throughout the years. Their love and support has meant the world to me."
Canary joined the cast of All My Children in 1983, playing the role of the mercurial Adam Chandler and his shy, gentle twin, Stuart. During his time with All My Children, Canary has earned the Outstanding Lead Actor Emmy on five different occasions -- 1988, 1989, 1993, 1995, and 2001. He has received an additional nine nominations.
Rumors of Canary's decision to retire first surfaced last year amid other reports that the actor had an undisclosed illness. The show's decision to kill Stuart Chandler in a whodunit plot fanned the flames. Though online reports stated that Canary no longer wanted to play Adam's often-unseen good twin, in published interviews Canary revealed that Stuart was his favorite Chandler brother.
In a video interview that appeared last week on the U.S. Townhall web site but was taped last fall, All My Children creator Agnes Nixon let slip that Canary would not be relocating to Los Angeles on a permanent basis. When Nixon was asked about her reaction to ABC's decision to relocate production of All My Childen, the legendary scribe commented on some of the talent that would not be making the trip.
"He is going for a short time," Nixon stated when presented with the possibility that Canary might not continue with All My Children once it moved to the West Coast.
Last week, when contacted by Soap Central for comment on the U.S. Townhall video, ABC had no comment.
A show source tells Soap Central that while the decision to leave All My Children was surely difficult for Canary, the decision not to move to Los Angeles was not.
"When David worked on Bonzana, he hated -- hated -- Los Angeles," the source explains. "He's been so happy on the East Coast."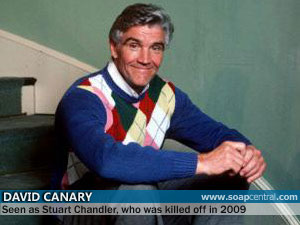 Canary's retirement has many fans wondering how the Chandler clan will carry on without its feisty patriarch. For his part, the actor says he is sure that his fictional family will be able to carry on without him.
"I truly feel that I will leave the show in great hands. Viewers will be happy with how Adam departs the canvas, and I know that leaving JR (Jacob Young) as head of the Chandler household will continue to provide the show with many great stories to come," Canary explained.
According to ABC, fans can expect a "scandalous end" to Adam and Annie's marriage, and a reunion between Adam and one of his former ex-wives. The network also promises that "the aftermath of his departure will leave a fight for power within the Chandler household."
Meanwhile, Canary refuses to rule out a return to All My Children in the future.
"This is not the last you've seen of Adam Chandler," Canary adds. "I will be back to check up on the Chandler Clan."
Canary will last air on April 23.