The City of Los Angeles is sending out the welcome wagon to mark All My Children's relocation to the West Coast. The Mayor of Los Angeles, Antonio Villaraigosa, and City Council President Eric Garcetti taped appearances on the ABC soap that will air next month.


Villaraigosa will appear as himself and share scenes with Susan Lucci (Erica Kane). In the show's storyline, Villaraigosa appears at a press conference designed to lure more business to Los Angeles. Later, the mayor crosses paths with Erica at ConFusion and the two reflect upon having met the year before at a charity event in L.A.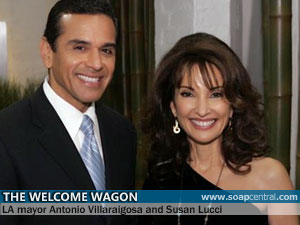 "It's all in a day's work," Villaraigosa told the Los Angeles Times. "This is the entertainment capital of the world. It's my job to promote an industry so integral to our economy."
Garcetti, meanwhile, will appear opposite David Canary (Adam Chandler), and urge the tycoon to make Chandler Enterprises more environmentally friendly. Garcetti's district includes the Andrita Studios that All My Children now calls home.
ABC moved production of All My Children to Los Angeles from New York earlier this month as a way to slash the show's operating budget. The show will begin broadcasting in high-definition later this year. Meanwhile, the entire Los Angeles area has embraced AMC since its move. Los Angeles magazine will feature an eight-page fashion spread featuring AMC stars in its March edition.
Garcetti's appearance is slated for February 16. Villaraigosa appears the following day, February 17.
Photo Credit: Rick Rowell/ABC