From the moment it was announced last November that two-time Emmy winner Julia Barr (Brooke English) would be returning for All My Children's 40th anniversary episode, fans began pressing for the ABC soap to find a way to bring the actress back full-time.
After weeks of anticipation, some fans were left wanting more following the actress' brief cameo in that special episode, which aired earlier this week. That yearning was compounded by what was seemingly a throw-away line in the episode. When the fictional Brooke was asked if she'd ever consider moving back to Pine Valley, the character responded, "Of course, I'd come back." Then, with a wink, she asked, "But wouldn't somebody have to warn Erica first?"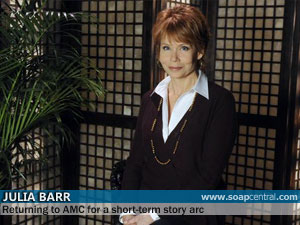 Though it isn't quite full-time, ABC is now confirming a report made earlier today by Soap Opera Digest stating that Barr will once again be headed back to Pine Valley. And, this time it's for an extended period of time.
Barr's return engagement begins February 23, in what the network is calling "a great story arc." ABC has so far declined to comment on exactly how long the story will last.
Prior to her appearance on All My Children on January 5, it had been more than three years since Barr had last been seen on-screen. In 2006, Barr refused requests by network brass to drop to recurring status. As a result, the show stopped writing story for Brooke and the character simply vanished from the canvas. It was a decision that outraged long-time viewers. The show scripted no farewell episode and after appearing as a mourner at a funeral, Brooke was never seen or heard from again.
Barr joined the cast of All My Children in 1976. She exited the show in 1980, but returned two years later. She remained with the show for the next 24 years.
Photo Credit: ABC