Emmy-nominated actress Leven Rambin (ex-Lily Montgomery and Ava Benton) will appear this week on an episode of ABC's primetime medical drama, Grey's Anatomy.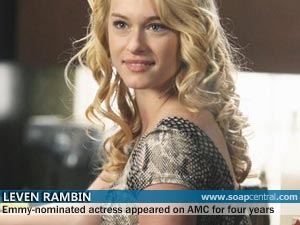 The special episode spans the course of several months. As Thanksgiving, Christmas and New Year's pass, Mark and Lexie must cope with the shocking arrival of a woman from his past, played by Rambin. In previews for the episode, Rambin's character utters the line, "I'm pretty sure you're my dad."
Meanwhile, Miranda is visited by her father, William, who disapproves of her choices in life; and Thatcher Grey questions the Chief's recent behavior as Meredith comes to his defense.
Grey's Anatomy airs Thursdays on ABC from 9:00 to 10:01 p.m. ET.
Rambin assumed the role of the autistic Lily Montgomery in June 2004. She exited All My Children on June 10, 2008, when Lily headed off to college. Fans can look for Lily to return to Pine Valley for All My Children's 40th anniversary episode, which will air January 5, 2010.