While they weren't in Pine Valley for Stuart Chandler's funeral, Kelly Ripa (Hayley Vaughan) and Mark Consuelos (Mateo Santos) will be returning to television. The on-and-off-screen couple is teaming up with the TLC cable channel for a new reality series.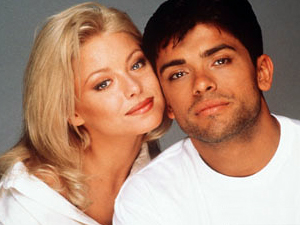 The TLC Woman Inventor Show, as it is being called during its planning stages, will help female inventors further develop their ideas for possible sale on the HSN shopping channel.
Formerly known as The Learning Channel, TLC is now known as channel that focuses on lifestyle and reality programming. The network was home to the popular Trading Spaces home makeover show, and now features one of television's most talked about series: John & Kate Plus 8.
Ripa appeared on All My Children from 1990 to 2002, where she met her eventual husband, Conseulos, who starred on the AMC soap from 1995 to 2002. Since leaving Pine Valley, Ripa has been co-hosting the Live! With Regis and Kelly morning talk show with Regis Philbin. Consuelos has recently started appearing as a panelist on the Oprah Winfrey Show's "Friday Live" shows. Between the two, the couple has amassed four Daytime Emmy nominations. Ripa was nominated in 1993 and 1999 and both actors were nominated in 2002.
Meanwhile, the still-untitled show will be holding casting calls in New York, Los Angeles, Dallas, and Chicago. For additional information, check out the Milojo web site at www.milojo.com