As first reported exclusively by Soap Central in March, Ronald Guttman (Alexander Cambias, Sr.) is returning to All My Children. Alex's return will bring about two stunning developments: he's been writing a tell-all book about not murdering Dixie Martin, and he'll pave the way for someone else to be killed.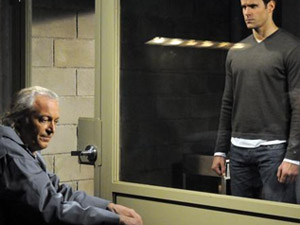 Fans may recall that the father of Zach "Alexander Cambias, Jr." Slater and Michael Cambias was revealed to be the Satin Slayer serial killer in 2007. Prior to that, the senior Alex was known only as a tyrannical businessman who wasn't too keen on raising children.
In his time off-screen, Alexander has found time to pen a book about the Satin Slayer murders. The Slayer offed six Pine Valley residents and attempted to kill about half a dozen more. Among the most notable of the Slayer's victims was Dixie Martin -- or was she? According to Alex's book, he didn't kill Dixie; someone else did. The revelation leads Tad Martin on a journey that will yield some stunning results. When Tad finds out who may have killed the love of his life, it could make for a very deadly response.
Since leaving All My Children, Guttman has guest-starred on NBC's Lipstick Jungle and Heroes. He has also found time to work on at least three motion picture projects.
Guttman previously appeared on 2003 and 2007. In his most recent appearance, Alexander was rendered paralyzed by an unknown gunman's bullet. The actor's return engagement begins this week.
Photo Credit: Keysha McGrady/ABC