Another Passions alum has landed a new gig on daytime. McKenzie Westmore (ex-Sheridan Crane) has landed the recurring role of Dr. Sinclair on All My Children. Dr. Sinclair appears as a psychiatrist at Oak Haven who is tending to the recovery of Annie Lavery.
Westmore appeared on Passions for nine years as Sheridan Crane, the unlucky-in-love-and-life heroine of the now-cancelled NBC soap. An original cast member, Westmore remained with the sometimes campy soap for its entire run.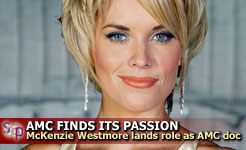 In All My Children's storyline, Brot Monroe served in the U.S. Army in Iraq and was injured in combat. While serving, he fell Of course, Westmore shares another bond with All My Children, though it is a bit more obscure than having a role on the show. Westmore's co-star on Passions, Liza Huber (Gwen Hotchkiss) is the real-life daughter of AMC icon Susan Lucci (Erica Kane).
While Westmore's role was originally conceived as a short-term engagement, there are already rumblings that the actress could find an extended stay in Pine Valley if things play out properly. Dr. Sinclair will have a secret tie to a character already on the canvas that results in a surprising storyline twist.
Earlier this year, Westmore's former co-star Eric Martsolf (ex-Ethan Winthrop) and her former on-screen love, Galen Gering (ex-Luis Lopez-Fitzgerald), were both hired by NBC's Days of our Lives.
Westmore started airing on All My Children on December 12th.
---
2018 DAYTIME EMMYS: SOAP CENTRAL'S COMPREHENSIVE COVERAGE