According to insiders, Alicia Minshew (Kendall Hart) could be poised to exit All My Children in the upcoming months. Nothing has been decided at this time, and talks between Minshew and ABC executives are said to be ongoing.
Mishew assumed the role of Kendall Hart, Erica Kane's eldest daughter, in January 2002. A newcomer at the time, Minshew had the difficult task of taking on a role that was created by Emmy-winning fan fave, Sarah Michelle Gellar. At the time, Gellar had gone on to star in the primetime series, Buffy: The Vampire Slayer, and was unavailable to return to daytime.
All My Children's writers embraced the idea having of a new actress in the part and quickly seized the opportunity to take the character of Kendall Hart in a new direction. Kendall's long-running feud with her mother was put aside and the two quickly became a tight-knit mother-daughter combo.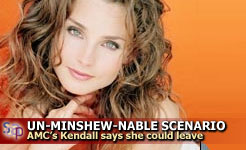 Losing Minshew would be a huge blow to the ABC soap, as much of the show's story has revolved around Kendall in recent years. While an insider has claimed that one of the sticking points in the contract talks is salary, Minshew has since gone on to say that money has never been a factor. The main reason, according to the actress, is the amount of down time that she can have. Minshew became engaged to boyfriend Richie Herschenfeld last year and, as one can imagine, the rigors of 12-hour workdays can make it difficult to enjoy time with one's loved one.
It should be noted that while salary was attributed as a reason for Minshew possibly leaving in an earlier version of this article, it was never implied that Minshew was demanding more money. Regrettably, the story, and a similar one by Soap Opera Digest, was seized upon by other web sites and message board posters and the story became misconstrued.
"And my main priority is a better schedule and a little vacation time to enjoy my soon-to-be husband. That is it! I am doing just fine and have never made an issue about money," Minshew assured fans in a posting on her official fan site. "AMC is being good to me and trying to work out my schedule and honeymoon vacation. That is it. These things take time.
Though Minshew has yet to be nominated for a Daytime Emmy, the actress remains wildly popular with fans and her co-stars. She has received Emmy "pre-nominations" from her castmates every year since 2004. Fans of the actress have helped vote her Outstanding Lead AMC Actress in Soap Central's Dankies Awards in each of the past three years.
Regarding her AMC future, Minshew added, "We're in the middle of negotiations. I'm in the process of figuring things out and trying to make things work."
ABC does not comment on contract negotiations.