It's a tried and true formula in the soap opera world: fans love soap history, so why not bring back well-liked characters from the past?
All My Children has had mixed results in recent years when it comes to bringing back faces from yesteryear. While fans have loved to see familiar actors back on the small screen, the ways that these performers' characters were reintroduced to the show haven't always been the best.
Maria Santos returned to Pine Valley as amnesiac Maureen Gorman. Her sister Julia came out of the witness protection program and ended up killing the man who killed her husband, Noah. Mimi Reed returned as a deadbeat mother who didn't know that her beau was a sexual predator. Dixie Martin spent time hiding in the shadows - and accidentally taking bullets -- hoping that no one would see her.
Now the ABC soap is hoping that it will have better luck this time around. The show is planning a series of still hush-hush returns over the next couple of months.
In the first, ABC confirms that Kate Collins (Janet Green) will return to the show in November. The return comes after what can safely be called a series of well-received return engagements this year and last.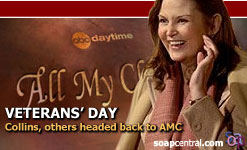 As for the other returns, fans are already batting around ideas on soapcentral.com's message boards. Many are hoping that multiple Emmy winner Julia Barr (ex-Brooke English) might be talked into returning to the show. Barr was unceremoniously dumped from the show last year after the network failed to offer the actress a new contract. Other fans wonder if Julia's not-so-dead husband, Noah Keefer, might return in the form of Keith Hamilton Cobb. Cobb appeared recently on the cable soap "Noah's Arc."
Collins returns on November 21, but she will make appearances through the end of the year.
Want to weigh in on which characters from the past you think are going to return? Visit our All My Children message board and offer up your guesses and storyline ideas. If you want to wax poetic about yesteryear's AMC, head over to our Blog section and share your memories of the past.