How do you feel about the firing of Megan McTavish as AMC's head writer?


This is great news. McTavish has ruined AMC and it needs to be fixed.
78%
McTavish's firing is a start, but I think there should be more dismissals.
13%
I enjoyed McTavish's work as head writer and I'm sorry to see her go.
6%
McTavish has done well but I think her time is up and AMC needs a change.
1%
I've given up on AMC, so it doesn't matter what they do behind-the-scenes.
0%
I have no opinion about McTavish's dismissal as head writer.
0%
Other
0%
Poll Posted: March 1st, 2007
Though it has been rumored for many, many months, ABC has confirmed that Megan McTavish has been fired as head writer of All My Children. The dismissal is effective immediately, but the show has not yet named a successor to the Emmy-winning scribe.
"This was a difficult decision. Megan came in at a crucial time for All My Children," Brian Frons, President, Daytime, Disney-ABC Television Group said in a statement. "We appreciate her vision and thank her for all her contributions."
McTavish's firing may start celebration among All My Children fans. While AMC's ratings have risen in recent weeks, the show hovered at or near record low ratings only several months ago. During this time fans have been critical of many of the scribe's major story undertakings. It is the very vision - or perhaps lack thereof -- that Frons cited that has had viewers up in arms. Among McTavish's missteps as head writer are, in the eyes of fans, the poorly penned exits of some of the show's big name talents, a lack of innovative storylines and ill-conceived plot payoffs.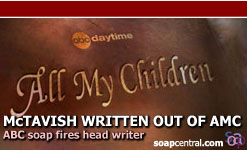 The panned storylines McTavish penned for All My Children follow a pattern of decidedly dark storylines that fans have criticized during her reign at other soaps. For weeks viewers were forced to watch Dr. Greg Madden buried alive in a coffin and during the Christmas season a serial killer stalked the women of Pine Valley. While fans were riveted at the idea that anyone could be picked off by the so-called Satin Slayer, they were not pleased with the killing of Dixie Martin or the killer's identity - the supposedly dead Alexander Cambias, Sr.
Megan McTavish was named head writer of All My Children in May 2003. Her installation as top scribe was not her first go around in the position; she served previously as head writer from 1992 to 1995 and then again from 1997 to 1999.
"I am thrilled to welcome Megan back to ABC Daytime," Frons said in 2003 when announcing her rehiring. "Her extensive history with All My Children, coupled with her exciting ideas for the show, make her the right fit to take over the helm of the writing team at a time when AMC is venturing into new and uncharted territory."
Despite the criticism, McTavish has been critically lauded for her work on All My Children. During her tenure with AMC, the show has earned two Daytime Emmy wins for Outstanding Writing. Those wins came in 1988 (McTavish was on the show's writing team, but was not head writer) and 1997. The 1997 win was shared with The Young and the Restless. McTavish also shared a Daytime Emmy win in 2003 for her work as head writer on General Hospital.
ABC has yet to name a replacement for McTavish, though some insiders are speculating that someone already on the show's writing staff will be elevated to the top position.