If rumors making their way around the Internet are true, All My Children fans will soon be welcoming a long-time favorite back to Pine Valley. And the possible return comes at a time when many fans have criticized the ABC soap for ditching some its long-time veterans in favor of younger performers.
Though nothing has been confirmed by any of the parties involved - and Soap Central readers should remember that Internet rumors do not always prove reliable -- there is a growing wave of speculation that Julia Barr (Brooke English) could be returning to AMC later this year.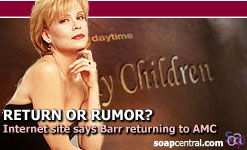 The chatter started when an entry on a popular web claimed that Barr had agreed to return to All My Children this spring. The posting, made on Wikipedia, a web site that allows anyone to edit and create encyclopedia-like entries, spurred a flurry of reporting by other soap web sites that reported the entry as fact.
The entry on Wikipedia has since been removed.
A spokesperson for Barr was unable to be reached due to an inactive email account. Meanwhile, a rep for a Barr fan site states that Barr has indicted to them that she has "no intention of returning to All My Children."
Barr left All My Children late last year after nearly 30 years with the show. AMC execs had wanted to bump the little-used actress from contract to recurring status, but Barr balked at the offer. Barr last appeared on AMC on December 20.