For the past 15 years, William Christian (Derek Frye) has played police officer Derek Frye on All My Children. But come later this month, Christian will be out and another actor will take over the long-time AMC role.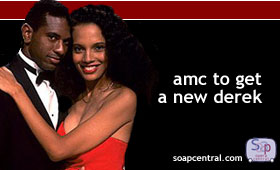 Christian was a contract player with All My Children during the first five of his years with the show. In 1995 the actor was dropped to recurring status, prompting fans to occasionally ask, "Where's Derek?" when a Pine Valley resident crossed the line of legality. According to a setside source, ABC recently approached Christian and offered to put him back on contract with the show. The actor, however, declined the offer.
Currently Christian commutes from his Los Angeles home to tape his All My Children scenes in AMC's Manhattan studio. An extended contract with the ABC soap would require Christian to spend more time away from his family and the actor is reportedly not interested in relocating his family to the East Coast.
"Due to William Christian's availability and the dictates of our current storyline, the role of Derek Frye will be recast," an ABC spokesperson said in a statement.
Christian makes his final airdate on August 28th. Actor Charles Parnell will take over the role of Derek beginning Thursday, September 8.