Shari Headley (Mimi Reed) will reprise the role of Mimi later this month -- and she won't be returning alone. For more on who's going to be by Mimi's side, be sure to click here to read our related story.
Headley's character is, of course, the mother of the lately-unseen Danielle Frye and former wife of Derek Frye. Fans have been expressing a desire to see Headley return to the show ever since Danielle popped up in Pine Valley in March 2004 and accused Mimi of being a deadbeat mom.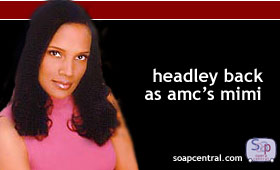 Headley originally created the role of then-police officer Mimi Reed in 1991 and remained with the show through 1994. Recently, the actress wrapped up stints on two of CBS's soaps. For a six-month period starting in August 2001, Headley appeared as Felicia Boudreau on Guiding Light. More recently, Headley made a short-term appearance as Heather Engle on The Bold and the Beautiful.
At this year's Daytime Emmys, Tonya Pinkins (Livia Frye), Headley's former on-screen sister-in-law proclaimed that "It is fantastic to be working with Shari again."
Headley returns for what is being termed a "short term engagement" beginning June 14th.