Would you like to see AMC's Jake return to Pine Valley?


Yes, but only if J. Eddie Peck reprises the role.
29%
Yes. The character is vital to the Martin family story.
27%
It doesn't matter to me if Jake returns or stays away.
12%
No, I really don't see a need for Jake right now.
11%
I don't like Jake at all -- so I don't want him back at all!
9%
It might not be bad for Jake to return and leave with Mia.
9%
I don't really think Jake is coming back any time soon.
2%
Other
1%
Poll Posted: March 29, 2004
According to a show insider, All My Children execs may be contemplating a return to Pine Valley by Jake Martin.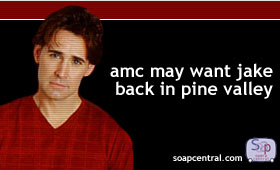 Jake - born
Joseph Martin, Jr.
- is the youngest child of Joe and Ruth Martin. Most recently portrayed by
J. Eddie Peck
, Jake was last in Pine Valley in June 2003 to announce his engagement to fellow doctor Carolyn Finn.
Peck left All My Children in February 2003. The actor said that he was disappointed by the show's story telling. Peck had expressed a desire for the writers to focus more on family-driven stories for the Martin family. When it was determined that the show's storylines could not accommodate Peck's request, Peck was granted his request to have his contract terminated.
Peck returned in June of last year to wrap up some loose ends of his character's storyline.
It is unclear if All My Children execs would consider having Peck return to the show. However, an insider tells Soap Opera Central that the show would be leaning more towards a recast.
An AMC spokesperson did not respond to a request for comment on this article.