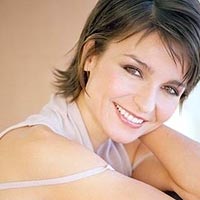 Sosnovska to leave AMC for new role
By
Dan J Kroll

Posted Friday, March 05, 2004 3:21:19 PM
Olga Sosnovska (Lena Kundera) has announced that she will exit All My Children later this year to pursue other projects. The decision, the actress asserts, was "difficult," but a decision that was made of her own volition.

Sosnovska joined All My Children in December 2002 in what was to have been a short-term role. Sosnovska, however, quickly won over fans and storylines were altered to allow the actress to become a contract player with the show.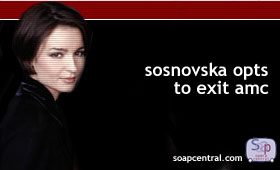 Sosnovska has opted to return to her home in London and take on a role in the upcoming series MI5, a drama about the United Kingdom's defensive security intelligence agency.

"As difficult a decision as it has been, I felt compelled to take this great opportunity." Sosnovska said in a statement."

Sosnovska earned legions of fans for her part in All My Children's groundbreaking lesbian love story. The actress has repeatedly ranked at the top of popularity polls in soap opera magazines and Internet message board forums. In April 2003, Sosnovska and on-screen love interest Eden Riegel (Bianca Montgomery) shared daytime's first lesbian kiss.

Internet chatter has questioned whether ABC execs had pushed Sosnovska out the door because of an unwillingness to seriously pursue a same-sex love story on a daytime series. Fans point to AMC's decision to remove Sosnovska's photo from the show's opening as a sign that her exit had been pre-determined. A show spokesperson stated earlier this year that the photos in the show's opening change on a regular basis and that Sosnovska remained a part of the All My Children cast.

"ABC and All My Children have been incredibly supportive and in no way was it their decision or intent to have me leave," Sosnovska explained.

ABC had no comment regarding Sosnovska's exit. The door will, however, be left open for Sosnovska (or another actress if the role were to be recast) to return at a later date.

Sosnovska last airs on April 28, 2004.




RELATED STORY
Former GH Emmy nom cast as Bianca's girlfriend.
---
2018 DAYTIME EMMYS: SOAP CENTRAL'S COMPREHENSIVE COVERAGE