Would you like to see AMC rebuild the Santos family?


No. I really don't think there's a need right now.
30%
Yes. I think the Santos family would be good for AMC.
29%
Yeah, but there's no way the originals would return to AMC.
13%
I haven't really given much thought to their Santos family.
13%
Maybe, but only certain members of the family.
8%
No, because I won't accept recasts of the characters.
7%
Other
0%
Poll Posted: January 19, 2004
Daytime newcomer Natalia Cigliuti has been cast as All My Children's new Anita Santos Warner.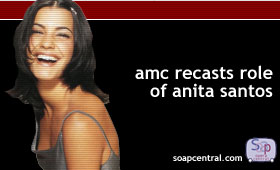 Cigliuti appeared as a regular on Saved By The Bell: The New Class and made guest appearances on The 70s Show and CSI: Miami. In addition to her work in television, Cigliuti has also made appearances in a handful of feature films.
When last seen, Anita Santos - the second youngest child of Isabella and the late Hector Santos - was preparing to move from Pine Valley to Chicago with fiancé Bobby Warner. During her previous time in Pine Valley, Anita was portrayed by
Darlene Tejeiro Dahl
. Dahl held the role from 1995 through July 1997. It is unclear if the All My Children casting department considered asking Dahl to reprise the role.
Currently, Anita's husband, Bobby, is not scheduled to make a return visit to Pine Valley. AMC had made an effort to lure actor
Brian Gaskill
(ex-
Rafe Kovich
,
Port Charles
) back to the show after the cancellation of Port Charles last year. Gaskill, however,
opted to jump networks
and take a role on CBS's The Bold and the Beautiful.
Cigiluti makes her All My Children debut on February 18th.