It would appear that All My Children's search for a new head writer is over. However, a network spokesperson insists that the search is ongoing. According to several inside sources, Emmy-winning writer Hogan Sheffer will take over as top scribe of All My Children in 2003.
Last month, ABC Daytime President Brian Frons announced that Richard Culliton had been released as All My Children's head writer. Frons cited fan discontentment and sagging ratings as the reason for Culliton's ouster. Culliton joined AMC as head writer in June 2001.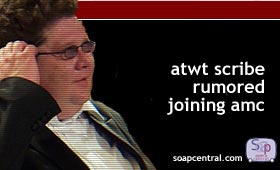 The network has not officially named a successor to Culliton, but reports hint that the show's existing writing staff will have the opportunity to submit story ideas. These ideas would be taken into consideration when selecting a new head writer. Former head writer Megan McTavish has also reportedly been approached about returning to her former position.
Hogan Sheffer has been a not-so-shy fan of All My Children's work for at least two years. Upon receiving the Daytime Emmy for Outstanding Writing Team in 2001, Sheffer, who took the stage with the rest of the As The World Turns writing team, revealed that he really believed that AMC deserved to win the award. Sheffer's work also resulted in Emmy gold this past year.
Prior to joining ATWT, Sheffer had had no previous experience in daytime television. His previous work credits included a stint at Dreamworks SKG where, for three years, he served as Director of Screenplay Development.
Though the details were never released, Hogan reportedly inked a new contract with As The World Turns in April. Inside sources state that Hogan has sought to be released from the contract and that all that is needed to close the deal with ABC is his signature on the dotted line.