Former All My Children star Sarah Michelle Gellar (ex-Kendall Hart) wed actor Freddie Prinze, Jr. on September 1st.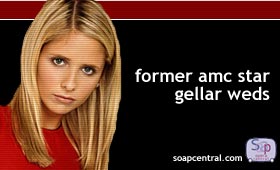 Gellar, 25, wore a Vera Wang gown and Prinze, 26, donned a custom-made linen suit, she said. A group of friends and family attended the ceremony, which was kept a closely guarded secret from the public. In attendance was Gellar's former co-star Eva LaRue Callahan (Maria Santos)
Gellar, who won a Daytime Emmy for her work on AMC, currently stars in the WB's Buffy the Vampire Slayer.
Gellar and Prinze met on the set of 1997's I Know What You Did Last Summer. They dated for about a year before becoming engaged in April 2001.
Gellar and Prinze will co-star in a sequel to this year's live-action version of Scooby Doo.