In a published interview with Soap Opera Digest, Kelly Ripa (Hayley Vaughan Santos) has denied that she is leaving the show. The actress states that she wants to be taken off contract and bumped to recurring status. "It's not a money issue, it's not a negotiation issue, it's a time-off issue," Ripa states.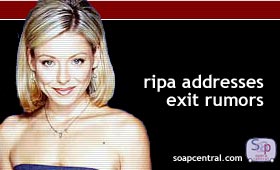 Ripa, of course, has been pulling double duty for over a year. In addition to her work on All My Children, a show she has called home for 12 years, Ripa serves as Regis Philbin's co-host on the Live! With Regis and Kelly morning talk show. Ripa also hints that she feared fans might think she felt "too good" for AMC if she left after landing her gig opposite of "Reege."
Ripa goes on to say that she plans to remain with All My Children as long as the show will have her. For their part, All My Children definitely seems interested in keeping Ripa around - no matter how little air time she receives.
In revealing the previews for this fall's storylines, executive producer Jean Dadario Burke indicates that Ripa's Hayley and her on-and-off-screen husband Mark Consuelos (Mateo Santos) will not be as prominent as they once were. Consuelos is currently in Australia filming a motion picture, but he is expected to return to the show this fall.
Photo: ABC