According to Internet chatter, Kelly Ripa (Hayley Vaughan Santos) will exit All My Children when her contact expires later this year.
Officially, a show spokesperson declined to comment on the rumors, stating that it is not policy to discuss rumors or contracts.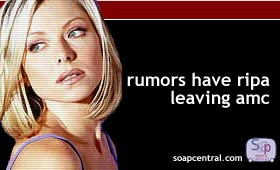 This is not the first time that Ripa' status with All My Children has been in doubt. In May 1999, amid reports that her perpetual front-burner status was beginning to take a toll, reports surfaced that Ripa wanted out of her contact. Then a new mom, Ripa reportedly was able to convince show executives to cut her work load slightly.
Now, however, Ripa's work schedule is more hectic than ever before. In addition to her work on All My Children, Ripa serves as co-host and side kick to Regis Philbin on the nationally syndicated "Live! With Regis and Kelly" morning program. Ripa can also be seen in commercials for hair care products and a line of flavored water.
Ripa's on and off-screen husband, Mark Consuelos (Mateo Santos) recently took a leave from the show so that he could film a part in a motion picture. Consuelos is expected to be missing from AMC for approximately three months.
Ripa is one of All My Children's veteran performers, having joined the show in November 1990.
Photo: ABC