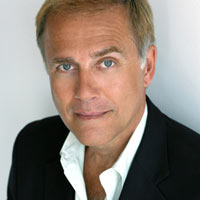 Pinter back as AMC's Roger
By
Dan J Kroll

Posted Sunday, February 10, 2002 12:12:47 PM
Updated Sunday, March 10, 2002 7:03:31 PM
Mark Pinter's (Roger Smythe) exit from All My Children during the annual Crystal Ball might have been one of the most unusual exits in recent All My Children history. If viewers hadn't read on Soap Central that the Crystal Ball would be Pinter's swan song, they might very well be sitting by their televisions wondering when the actor would return.
Luckily for them, Pinter is returning.
Pinter's exit was reportedly storyline dictated - or rather lack of storyline dictated. Pinter joined the show in February 2001 for what was originally supposed to have been a one or two day gig. Show execs and fans were so impressed with Pinter's work as Greenlee's errant dad, that Pinter was given a contract and returned to the show the following month. But after inking a contract, Pinter was rarely seen. By year's end it became clear that Roger Smythe wasn't going to have much of a storyline and show execs decided to bump Pinter from contract to recurring status.
Pinter resumed taping episodes for AMC on February 19. He makes his return appearance beginning March 12.



2018 DAYTIME EMMYS: SOAP CENTRAL'S COMPREHENSIVE COVERAGE