Former All My Children director Christopher Goutman is rumored to be mulling an offer to become the new executive producer for the show. Goutman currently serves as executive producer for As The World Turns, where his work was awarded with a Daytime Emmy earlier this year.
Jean Dadario Burke the current executive producer for AMC has served in that capacity since last year.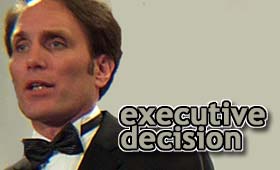 Those will keen eyes may remember seeing Goutman's name in AMC's credits crawl several years back. Goutman served as a director on AMC during Felicia Minei Behr's run as executive producer. After his AMC run, Goutman moved to As The World Turns as a director, where he also served under Behr. Goutman was later called in to serve as Executive Producer for NBC's Another World during the final months of the show's run. Upon AW's cancellation, Goutman returned to ATWT, where he replaced Behr as executive producer.
Goutman and ATWT head writer Hogan Sheffer are widely praised as the force that turned around the sagging CBS soap and led it to a record-setting run at this year's Emmys. All My Children currently has a new head writer in Richard Culliton, who assumed the helm back in July. It is a situation not all that unlike what took place when Goutman took over at As The World Turns -- where Sheffer had been brought on board from Dreamworks SKG to serve as the show's head writer.
It is said that Goutman has remained on very good terms with his former bosses and colleagues at ABC. Since Goutman has already helped to turn around As The World Turns, some are speculating that he might be up to the challenge of restoring ratings-impaired AMC to its former brilliance.
In one final AMC/ATWT bit of irony -- we'll try to keep this as clear as possible -- All My Children's former head writer, Jean Passanante, left AMC in July to take a job as co-head writer for As The World Turns. Her successor's [Culliton] wife, Carolyn Culliton, serves as co-head writer with Passanante at As The World Turns.