In just a few weeks, Eric Dearborn's abbreviated run as All My Children's Gabriel Devane will come to an end. Like his character, viewers haven't gotten a chance to learn an awful lot about the actor.
From a very early age, Dearborn says that he's felt someone has been watching over him. Born on September 26, 1979 in the La Cienega-Pico section of Los Angeles, a newborn Eric Michael Dearborn was treated for pneumonia, a condition that was not discovered until two weeks after his birth.
Thirteen years later, Dearborn was again in the hospital - this time for a brain tumor.
"I found myself seeing silver lights out of the corner of my eyes (or stars as some would say)," Dearborn recalls. "I immediately went to my mother and attempted to tell her how I was feeling. My speech was mumbled and I was unable to comprehend what was going on around me. I grew scared [and] started to lose all feeling in my legs."
Dearborn also lost the ability to speak. His parents raced him to Daniel Freeman hospital in Marina Del Rey, California. After a barrage of tests, Dearborn was diagnosed with polycystic astrocytoma; he had a tumor in his lower-left cerebellum. It took two surgeries to remove the tumor, which, fortunately, was benign.
"Having that brain tumor has absolutely changed my life because I realize how precious life is and I live every day to the fullest," says Dearborn.
Eric has become a supporter of the Red Wagon Society, a group based in the Children's Hospital of Los Angeles, California, one of the hospitals in which his delicate brain surgery was performed. The RWS has three distinct goals: Tender loving care, the healing of children's bodies and spirits and advancement of critical pediatric medical treatment and research.
Outside of the medical scares, Dearborn led a relatively normal childhood. Growing up, his favorite toys were GI Joe action figures. "I don't know why," Dearborn laughs, "because I never got to fight. I was scared to fight."
Years before he made his first appearance on television, Dearborn found work as a model - but the then-young Eric didn't see modeling as a career.
"A friend of the family got me started when I was 8, but I really wasn't interest [in modeling] until I reached about 12 and realized I could make money," Dearborn explains. "So I got into it to make money for baseball to get some extra pitching lessons."
An avid baseball fan, Dearborn calls baseball's all-time strikeout leader Nolan Ryan his hero. Among Dearborn's most-prized possessions is a Nolan Ryan rookie card. Since not every soap opera fan is familiar with sports, Soap Central did a quick Internet search to find out how much a Ryan rookie card might go for on auction web sites. Our search turned up a similar card trading in the several-hundred dollar range.
Though he's appeared in print ads for Abercrombie & Fitch, Wilson's Leather, Old Navy, Nike and Levi, Dearborn calls his first photo shoot his most memorable.
"My favorite shoot was probably my first one because I really thought doing a Kmart ad would make me a supermodel," Dearborn says humbly.
When Dearborn opted to forgo college in favor of his modeling career, Dearborn says that his family was very supportive and did not try to talk him out of the decision. Dearborn's affection for his family - particularly his father - is apparent when he is asked, "What is one question that no one has ever asked you in an interview or one that you have wished that you'd be asked?"
"Who is your best friend?" Dearborn responds. He goes on to answer the question, "My best friend is my father because he is unquestionably the best man in history. If I didn't have my father I don't know what I would do."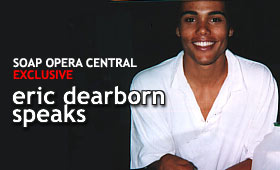 Like his interest in baseball, Eric favors himself a music buff and calls music his "greatest love." While the boasts of most music fans are of rare import albums or an autographed CD, Dearborn can actually lay claim to being part in the videos of some of music's top-selling artists. Dearborn has appeared in R&B group Next's "Too Close" video, fellow model-turned-actor Tyrese's "Sweet Lady" video, and Blink 182's "Whats My Age Again?"
Some of Dearborn's most recent musical acquisitions include N*Sync's "Celebrity" and UK R&B crooner Craig David's "Born To Do It."
Also on the music front, Dearborn appeared in a Pepsi commercial with pop star Ricky Martin. US viewers never had a chance to see the commercial because it aired solely in Latin American markets. Though it probably didn't bother the soda company, Dearborn says that he doesn't drink Pepsi -- or Coke for that matter. Dearborn is very much a water kind of guy.
Another interesting food note is the actor's diet. Carrots, says Dearborn, are his favorite snack food.
"I am macrobiotic," notes Dearborn. "I've never had a hamburger or hot dog or anything like that."
Macrobiotics is the science, which equates health and longevity to the interactions between a person's lifestyle, the food a person eats, and the environment in which a person lives.
In early 2001, Eric's agent handed him a script for a soon-to-be-cast part on All My Children, a character known only as "Gabriel." Dearborn had never seen an episode of the soap opera -- and even now has only tuned in on two occasions.
Landing the All My Children role meant that Dearborn would have to relocate from the West Coast to Manhattan. Luckily, Dearborn wouldn't be alone in town; his aunt works for the NBC affiliate in New York City. Adjusting to life on the right side of the country wasn't too bad for the actor. There is, however, one noticeable difference.
"The only difference was the people because they're so standoffish here in New York and they're not [that way] in Los Angeles," Dearborn states.
Prior to his All My Children audition, Dearborn had another shot at landing a role on daytime television; he auditioned for the part of Jamal Woods [now played by Kiko Ellsworth] on Port Charles.
Though nervous, Dearborn says that his first day in the AMC studios went really quite well.
"Cameron Mathison [Ryan] was such a nice person to me," recalls Dearborn. "And everyone else in the cast pretty much came up to me and [said], 'You know what, Eric. We know your background and know that you don't have any experience in acting, but we're going to try to help you out as much as possible.'"
On May 20th, Gabriel made his AMC debut as a mysterious young man skulking about the Wildwind grounds. Regardless of Gabriel's highs and lows, most AMC viewers will forever recall Gabriel as another of All My Children's "lurkers" gone awry.
"Anthony Addabbo [ex Dimitri] told me that I was the highest paid person per-word in soap operas," Dearborn says with modesty. "And that was his little joke."
Gabriel's silence wasn't just frustrating to those watching the show each day. The actor says that he was troubled by his lack of dialogue as well.
"I actually liked Gabriel -- and I hated him," Dearborn replied when told that some Soap Central message board posters had wanted to grab Gabriel and shake him into speaking. "II tried to shake him myself to get him to talk, but that didn't work."
On August 3rd, 2001, Eric was notified by the new head writer of All My Children that the character of Gabriel Devane was being written out of the show. Whereas Gabriel was the creation of All My Children's previous head writer, Jean Passanante, the show's new top scribe, Richard Culliton, did not see Gabriel fitting into his vision of All My Children's future.
The news of Dearborn's release sent many of the actor's fans into a rage. In fact, no less than four online petitions have been created to convince the show to reconsider writing Gabriel out of the show. Dearborn remains philosophical about the write-in campaigns.
"As for writing into the studio to keep me on, that is your business," he told fans on his official web site. "I feel if they think [Gabriel] should part from the show he should just go."
While AMC's writing team appears to be out of ideas for the character, Dearborn has quite a few ideas for Gabriel's future. When asked what he would do if he was forced to step in as head writer following the current writing team's disappearance into the Pine Valley Ocean, Dearborn came up with the following ideas for his character.
"If I had my choice, my character would be involved in a love triangle with Erica Kane and Bianca," Dearborn says. "I [also] would have gotten Stuart to teach Gabriel some things about life. That would have been funny."
Regardless of his future at All My Children, Dearborn remains upbeat and optimistic.
"My advice to everyone is, 'The sun comes after the dark,'" Dearborn says. "No matter how dark it gets, it will be bright one day and that one day might be sooner than you think."