Hold on to your keyboards, AMC fans. There are casting reports coming out of AMC that could very well rock your SHIFT key.
According to information given to Soap Central, Anthony Addabbo (Dimitri Marick) will leave All My Children this summer.
Depending upon who you talk to, there are several different reasons for Addabbo and Dimitri's departures. Here are the most plausible of the explanations.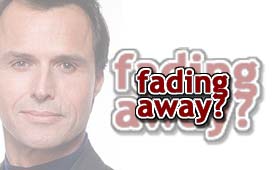 Last month, Michael Nader's (ex-Dimitri) legal battle against drug possession charges stemming from a February arrest at a Manhattan nightclub were finally resolved. Nader was sentenced to probation after pleading guilty to drug possession. Other charges against him were dropped. The Loyalists, a group of Nader fans who have rallied to his support over the years, have begun to petition ABC to bring Nader back to AMC. The network never ruled out the possibility that Nader could return. In a statement issued in March, ABC hinted that Nader could return if his legal issues were resolved and if he received treatment for his drug addiction. The legal issues are gone and Nader has already completed drug treatment at an undisclosed facility. ABC is sticking with the statement it issued, but points to a key phrase in the statement that said Nader could return as Dimitri if it "makes sense" to the show's storylines.
Another setside source tells Soap Central that the writers had always intended to write Dimitri out -- eventually. Obviously, Nader's sudden unavailability could not be immediately worked into the show and the writers needed some time to set up the character's exit. It's been reported that ABC was very, very pleased with Addabbo's work as Dimitri and that he could be offered a job on Port Charles or General Hospital. Addabbo's family is still based on the West Coast; he never made a permanent move to New York after landing the part of Dimitri.
What makes the rumors of Dimitri's exit so interesting is that it is reported that Finola Hughes' Alex will leave with her husband. The actress will remain with the show, playing the part of Anna Devane.
"The only character they're keeping is the one that doesn't belong to AMC!" remarked one user on our message boards.
The AMC source cautions fans not to necessarily fear the worst. "This does not necessarily mean the end of Alex and Dimitri. They could return." If Dimitri does return, it's unclear which actor would be cast in the role.
No official final airdates have been announced for either Addabbo or Hughes' Alex. An AMC spokesperson declined comment on this report.