It's been over a month since Michael Nader (Dimitri) was arrested in New York on drug sale and possession charges. In that time, there has been a lot of gossip about the actor's personal life as well as speculation that his run on All My Children has come to an end.
Michael Nader is currently undergoing treatment at an undisclosed drug rehabilitation facility. Nader's agent tells Soap Opera Central that his client is "Working hard and making great progress."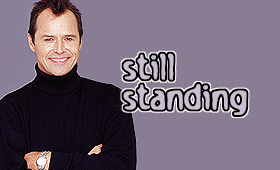 Due to the fact that Nader's arrest was a sudden event, the writers had no time to rework the show's already-written storylines to accommodate Nader's absence. Because of this, the casting department brought in Guiding Light alumni Anthony Addabbo to temporarily take over the role of Dimitri Marick. This recast led to all sorts of rumors that Nader's stay at ABC had once again come to an end.
Nader and ABC parted ways in 1999 after the two sides were unable to come to terms on the actor's future with the show. A group of fans, called The Loyalists, lobbied ABC to bring Nader back to the canvas. Their efforts were rewarded and Nader returned to the show several months later.
These same fans are now beseeching ABC to keep Nader on All My Children despite his legal and personal problems. ABC has issued a statement of support for Nader and stated that they will help him get the treatment that he needs. However, the network stopped short of saying that Nader would be welcomed back to the role that he created in 1991. The Loyalists are not opposed to a temporary recast and understand that AMC had little choice but to recast the role, but they say that they hope Nader will find that his job is waiting for him upon completion of his treatment.
Nader broke his silence earlier this month with a letter to his fans, published in Soap Opera Weekly magazine. That letter was forwarded by The Loyalists to Soap Central and is reprinted here at their request.
To all of the people who are fans of All My Children, let me begin by letting you know that I am in a safe place and am turning myself totally over to the process of recovery. I am once again overwhelmed by the generosity, kindness and support by all of you through this difficult period in my life. I hope to be back on the show as soon as possible, playing the role that I love so much, "Dimitri Marick."

ABC has treated me with that same kindness, asking me to take charge of my recovery. The door is slightly ajar for my return, but only if I successfully finish and maintain my program of recovery. Also, I am anxious for all of you to know that the charges filed against me are inaccurate.

God bless you all for caring. I will not let you down.

Gratefully yours,
Michael Nader
While Nader's treatment is ongoing, his personal life continues to be plagued by tabloid reports and rumors, none of which will be reprinted by Soap Central until Mr. Nader makes an official statement on them.