Rumors are flying that newcomer Sara Hugh's (Tina Harding) days in Pine Valley are numbered. The apparent fodder for the rumors is the departure of Hugh's on-screen love interest Mathew St. Patrick (Adrian Sword). St. Patrick made his final, though unceremonious, on-air appearance in October 31st. The actor left All My Children after landing a part in an HBO series.
So, The AMC Pages asked fans for their thoughts on the rumors in a Whaddya Think? poll question. We asked voters if they thought that Tina should leave town now that Adrian's gone. A whopping 40% of those responding to the poll said that they've been bored by Tina ever since she first set foot in town. However, one-in-three voters said that they see many possible storylines for Tina even without Adrian --- even if she has been a little boring.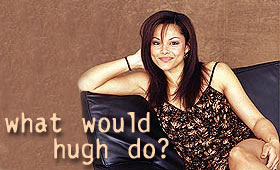 A spokesperson at ABC insists that Hugh, whose character has been backburner material from nearly her first on-screen appearance, will not be departing any time soon.
Hugh started off with All My Children in September 1999 in what was scheduled to be a recurring role. In February 2000, Hugh was put on contract and Tina and Adrian's romance began. The relationship never caught fire and by the time it looked as though Tina and Adrian might finally be happy, St. Patrick revealed that he was stepping away from the show.
An insider with the show hints that a casting call has been put out for a new Adrian, though the show denies the claim. ABC has, however, put out a call for "Frank," a sexy, twentysomething African American character. The description seems appropriate for a possible Adrian recast, but officially ABC remains insistent that "there are no plans to recast Adrian."
Bolstering the claim that Tina will be staying put, ABC states that Tina will play an important role at Pine Valley Hospital by using her sign language skills. Skeptics question how viable a character could be in this capacity.
---