Robin Mattson, a featured performer on All My Children since 1994, will make her final on-air appearance as Janet Green Dillon on May 9th.
The reason for Mattson's departure is said to be "storyline dictated," though many fans have noticed that Mattson hasn't had a real storyline since her character wed Trevor Dillon well over a year ago.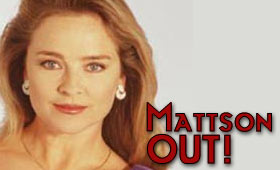 James Kiberd, who portrayed Trevor for over a decade, left the show earlier this year after he and the network were unable to come to terms on a new contract.
According the sources at the network, Mattson was only notified in mid-March that her role on the show would be ending.
Mattson, whose earned two Emmy nominations for her work on Santa Barbara and General Hospital, has been with All My Children since 1994. The actress has won numerous Soap Opera Digest Awards, the most recent coming in 1995.
Alexis Manta (Amanda), who was bumped to recurring status in late-1999, will also be departing with Mattson. Manta joined the cast in 1996.