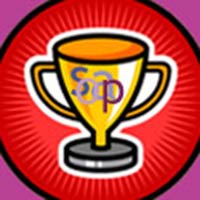 The Dankies: 1996-1997
Following are the final results of the 1997 Dankies. Winners are denoted by bold type.


---
The 1997 Dankies Final Results
Outstanding Leading Actor
John Callahan (Edmund Grey) (748/1662 votes)

David Canary (Adam and Stuart Chandler) (765/1662 votes)

Michael E Knight (Tad Martin) (79/1662 votes)

Michael Nader (Dimitri Marick) (70/1662 votes)
---
Outstanding Leading Actress.
Eva La Rue (Maria Santos-Grey) (660/1662 votes)

Susan Lucci (Erica Kane) (187/1662 votes)

Robin Mattson (Janet Green) (242/1662 votes)

Marcy Walker (Liza Colby) (573/1662 votes)
---
Supporting Actor
Mark Consuelos (Mateo Santos) (255/1662 votes)

James Kiberd (Trevor Dillon) (297/1662 votes)

Ben Monk (Kevin Sheffield) (824/1662 votes)

Walt Willey (Jackson Montgomery) (286 /1662 votes)
---
Supporting Actress
Julia Barr (Brooke English) (271/1662 votes)

Carrie Genzel (Skye Chandler) (468/1662 votes)

Kelly Ripa (Hayley Vaughan) (442/1662 votes)

TC Warner (Kelsey Jefferson) (481/1662 votes)
---
NewComer
Roscoe Born (Jim Thomasen) (261/1662 votes)

Alla Korot (Allie Doyle) (413/1662 votes)

Anne McDunnough (Esther Glynn) (572/1662 votes)

Esta Terblanche (Gillian Andrassy) (416/1662 votes)
---
Younger Performer
Alexis Manta (Amanda Dillon) (699/1662 votes)

Ben Monk (Kevin Sheffield) (799/1662 votes)

Lauren E Roman (Laura Kirk English) (111/1662 votes)

TC Warner (Kelsey Jefferson) (155/1662 votes)
---
Attractive Male
John Callahan (Edmund Grey) (513/1662 votes)

Mark Consuelos (Mateo Santos) (431/1662 votes)

Michael E Knight (Tad Martin) (506/1662 votes)

Michael Lowry (Jake Martin) (212 /1662 votes)
---
Attractive Female
Eva LaRue Callahan (Dr. Maria Santos-Grey) (803/1662 votes)

Susan Lucci (Erica Kane) (184/1662 votes)

Kelly Ripa (Hayley Vaughan) (184/1662 votes)

Marcy Walker (Liza Colby) (491 /1662 votes)
---
Memorable Moment
Brooke is unable to rescue Maria and the plane tumbles off the cliff (339/1662 votes)

Erica returns Maddie to Maria and says that the child is really Maria's daughter (683/1662 votes)

Erica changes her plea to guilty (29/1662 votes)

Amanda calls Janet "mommy" (484/1662 votes)

Janet tries to rescue Amanda from the well, but it ultimately trapped herself (127 /1662 votes)
---
Storyline
Grappling With the Truth: Kevin's sexuality (339/1662 votes)

The Girl Is Mine: Erica kidnaps Maria's child and passes her off as her own (334/1662 votes)

Disaster In Jersey: Flight 149 Crashes into a mountain (217/1662 votes)

Just Say "I Love You": Adam and Liza fumble with their emotions but eventually confess their love (772 /1662 votes)
---
Least Favorite Storyline
The Girl Is Mine: Erica kidnaps Maria's child and passes her off as her own (421/1662 votes)

Are You My Daddy?: Maddie's paternity (137/1662 votes)

Not Such a Merry Christmas: Red Kilgren--Is he really Santa Claus? (344/1662 votes)

Porno for Pyros: Laura tries desperately to keep her nude photos a secret (453/1662 votes)

The Man From Down Under: Tanner rapes Hayley and then tries to kill her. (307 /1662 votes)
---
Favorite Character
Liza Colby Chandler (747/1662 votes)

Edmund Grey (237/1662 votes)

Maria Santos Grey (313/1662 votes)

Tad Martin (365 /1662 votes)
---
Missed Character
Maria Santos Grey (863/1662 votes)

Julia Santos Keefer (511/1662 votes)

Noah Keefer (176/1662 votes)

Bobby Warner (112 /1662 votes)
---
Recurring or Special Role
Jennifer Bassey (Marian Colby) (754/1662 votes)

Anne McDunnough (Esther Glynn) (331/1662 votes)

Rosie O'Donnell (Naomi) (258/1662 votes)

Lynne Thigpen (Grace Keefer) (319 /1662 votes)
---
Least Favorite Character
Gillian Andrassy (43/1662 votes)

Skye Chandler (94/1662 votes)

Laura Kirk English (161/1662 votes)

Tanner Jordan (332/1662 votes)

Dimitri Marick (192/1662 votes)

Bianca Montgomery (644/1662 votes)

Pierce Riley (644/1662 votes)
---
Worst Moment
Dimitri wins custody of Madeline (446/1662 votes)

Skye switches the results of the paternity test (166/1662 votes)

Liza suffers a miscarriage and loses her baby (196/1662 votes)

Kevin's mother tells him that he is no longer her son (115/1662 votes)

Pierce and Brooke's dances in the livingroom (739 /1662 votes)
---
Overall Performer
Julia Barr (Brooke English) (29/1662 votes)

John Callahan (Edmund Grey) (205/1662 votes)

David Canary (Adam and Stuart Chandler) (350/1662 votes)

Mark Consuelos (Mateo Santos) (7/1662 votes)

Carrie Genzel (Skye Chandler) (8/1662 votes)

James Kiberd (Trevor Dillon) (10/1662 votes)

Michael E Knight (Tad Martin) (33/1662 votes)

Eva La Rue (Maria Santos-Grey) (245/1662 votes)

Susan Lucci (Erica Kane) (159/1662 votes)

Robin Mattson (Janet Green) (129/1662 votes)

Ben Monk (Kevin Sheffield) (86/1662 votes)

Michael Nader (Dimitri Marick) (22/1662 votes)

Kelly Ripa (Hayley Vaughan) (20/1662 votes)

Marcy Walker (Liza Colby) (350/1662 votes)

TC Warner (Kelsey Jefferson) (4/1662 votes)

Walt Willey (Jackson Montgomery) (5/1662 votes)