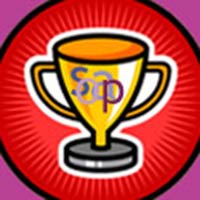 The Dankies: 1994-1995
Following are the final results of the very first Dankies held in 1995.


---
The Winners
Here is the complete list of winners and nominees. The winners in each category are denoted by a bullet (»).
Funniest Moment
Best Dramatic Plot
» Opal's Fainting
After Daisy and Myrtle convinced Opal through the Ouija board that Janet was dead, imagine Opal's surprise when Janet popped up on her doorstep.
» Gloria's Insanity
When Adam was responsible for the death of her daughter, Ana Claire, Gloria took matters into her own hands by trying to get and "eye for an eye."
| | |
| --- | --- |
| Most Attractive Male | Most Attractive Female |
| John Callahan [Edmund] | Teresa Blake [Gloria] |
| » Keith Hamilton Cobb [Noah] | » Eva LaRue [Maria] |
| Mark Consuelos [Mateo] | Sydney Penny [Julia] |
| Michael E Knight [Tad] | Kelly Ripa [Hayley] |
Best Dressed Male
Best Dressed Female
John Callahan [Edmund]
Julia Barr [Brooke]
David Canary [Adam]
» Susan Lucci [Erica]
Michael E Knight [Tad]
Kelly Ripa [Hayley]
» Michael Nader [Dimitri]
Favorite Character
Least Favorite Character
The Taylor Roxbury Cannon Award
Edmund Grey
Bobby Warner
Julia Santos
Hector Santos
Mateo Santos
Jason Sheffield
» Noah Keefer
Laurel Dillon
Tad Martin
» Taylor Roxbury-Cannon
| | |
| --- | --- |
| Most Memorable Moment | Worst Moment |
| » Alec Trying To Kill Arlene with Alcohol | Erica on Front Street |
| Noah's Proposal | Kendall's Departure |
| 25th Anniversary Week of Specials | Erica and Dimitri's Wedding |
| Edmund's Funeral | Totally Clueless Cyberdating |
| Erica on Front Street | Derek and Mimi's Quickie Phone Divorce |
| | » Jack's Miracle Heart Cure |
| | |
| --- | --- |
| Outstanding Younger Actress | Outstanding Younger Actor |
| » Lauren Roman (Laura) | Brian Gaskill (Bobby) |
| Darlene Terjeiro (Anita) | Shane McDermott (Scott) |
| TC Warner (Kelsey) | » Tommy J Michaels (Tim) |
| | |
| --- | --- |
| Outstanding NewComer | Top Storyline |
| Chris Bruno (Michael) | » Alec/Hayley/Arlene Triangle |
| » Mark Consuelos (Mateo) | Erica's Drug Addiction |
| Marcy Walker (Liza) | Gloria's Insanity |
| TC Warner (Kelsey) | Louie Stalks Julia |
| | Michael's Homosexuality |
| | Maria's Infertility |
Outstanding Supporting Actor
Outstanding Supporting Actress
Chris Bruno (Michael)
Robin Mattson (Janet)
» Mark Consuelos (Mateo)
» Kelly Ripa (Hayley)
Jim Fitzpatrick (Pierce)
Lynne Thigpen (Grace)
James Kiberd (Trevor)
Marcy Walker (Liza)
Jack Millard (Louie)
| | |
| --- | --- |
| Outstanding Lead Actress | Outstanding Lead Actor |
| Julia Barr (Brooke) | John Callahan (Edmund) |
| Eva LaRue (Maria) | David Canary (Adam) |
| » Susan Lucci (Erica) | » Keith Hamilton Cobb (Noah) |
| Sydney Penny (Julia) | Michael E Knight (Tad) |
Outstanding Overall Performer
David Canary (Adam)
Keith Hamilton Cobb (Noah)
» Susan Lucci (Erica)
Robin Mattson (Janet)