About the Two Scoops section
All My Children opinion columns from 2005

Share this story
Every week, our Two Scoops columnists share their thoughts and opinions in the Two Scoops commentary columns. Those columns are archived to allow fans a chance to make sure that they've read every opinion for every week. This archive features columns written about All My Children in the 2005 calendar year.
To access columns from other years or to review columns for other soaps, please see the
Related Information
links at the bottom of this page to access a specific year. Or to view a listing of all years for which columns are available, simply
click here.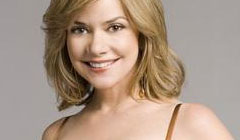 January 3, 2005
I remember the end of last year when I wrote how Megan McTavish had brought on the new characters of Krystal and Babe. I expressed my displeasure with the choice that was made to bring these two to PV. I haven't changed my mind during the year.
The last couple of weeks have been damp! I tell you I was in tears for JR when he had to give up Miranda. I know she wasn't his to keep but he did think she was his child up until very recently (especially soap time) and he loved that little girl. It was a great touch to have the music box playing Dixie's song to JR.